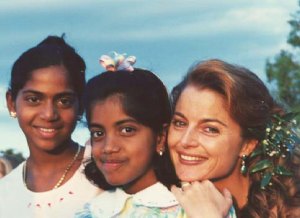 The next morning, I looked up the church of Santa Margherita a Montici in the phone book and dialed with hope and trepidation. The priest, Don Gamberucci, answered. After introducing myself and explaining my interest, I was thrilled to hear his cheerful "Vieni, vieni! Come on up!"

Don Gamberucci, with an agile step and lively eyes, greeted me as if I were a long-lost relative. He showed me the antique organ that was recently restored, and the triptych paintings of the Virgin Mary done by a follower of Giotto.

I loved the rough stone walls inside the church. The building dated from the eighth century, and was dedicated to Saint Margaret of Antioch, who was known as a protector of women in childbirth. We picked a date for six months hence -- in September -- and he loaded me up with instructions, calling out, "Auguri, auguri!" (best wishes) as I departed.

Back in California, the challenges I faced in organizing a wedding from 7,000 miles distance, and dealing in another language, proved to be immense. Because of the time difference, I had to stay up past midnight every time I needed to phone the priest with questions! One of the greatest struggles was understanding and correctly completing the daunting civil documentation."

Luckily we were blessed with a gem of a priest who was always patient and helpful every time I phoned him in desperation. The clarity I finally managed to gain was this: Once in Florence, Dave and I would have to spend a morning completing the civil documentation first at the American consulate, where we'd do a sworn statement called a Nulla Osta. Then we'd have to rush (di corsa! the priest had emphasized rush) to the Prefettura, where we would legalize the consulate's signature.

Then he advised taking a taxi (di corsa!) to the Pretura (not to be confused with the Prefettura,) before they closed at noon for the day, to do the Atto Notorio, a sworn statement requiring two witnesses and the notarization of an Italian magistrate.

My fiancÚ, typically, was not interested in the wedding details and my mother was in England for the summer. It proved to be extremely fatiguing to be so totally on my own in arranging the event. It certainly didn't help that I had a bevy of health problems and was working long hours. For financial reasons we had chosen not to hire someone to organize it for us, the way most people do with destination weddings.

I arrived in Italy six days before the ceremony, completely exhausted with plenty of tasks still to complete. When Dave arrived, we found trattoria for the wedding dinner with only three days to spare.

Daniele, the young owner, explained his philosophy about food and wine with a passion that brought tears to my eyes. We sampled his September specialty: penne with Gorgonzola and grapes, which Dave pronounced "awesome."

When Dave asked for his favorite Italian dessert, panna cotta, instead of a wedding cake, Daniele immediately called to his assistant and said, "We'll need six tubs of fresh cream for Friday night!"