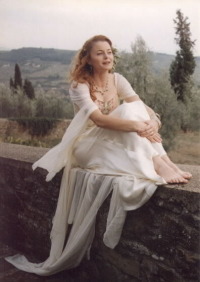 As soon as I became engaged, I knew I wanted to have my wedding in Tuscany, my favorite place in the world. But family members said, "You can't get married there, it's too far away." And our friends said, "You can't get married there, you're not Catholic." But my fiancÚ, Dave, encouraged me to go on an investigative trip to my beloved city anyway. So I did.

I paid many visits to the marriage office in Florence's town hall, as well as to the American consulate, in attempts to understand the civil documentation process. Both places gave me mind-boggling lists of appointments, oaths, certificates, witnesses, stamps and sworn statements.

Typically, the two offices contradicted each other in their respective rules and regulations. I also spent a week searching for a priest and a church, encountering plenty of obstacles. Then I made two discoveries that paved the way.

One day while sharing a biting espresso with my Italian friend Cinzia in her little apartment, she asked, "Didn't you say David was Catholic?"

"Well, yes," I replied. "He was brought up that way."

"I think it might be solved then!" said Cinzia, explaining that a "mixed ceremony" was possible if one of the sposi was Catholic. What Dave needed to prove was his batesimo and cresima.

I phoned my fiancÚ:

"Are you a certified Catholic?" I asked him. "Can you prove it?"

"I don't know, I suppose so. Have you found a priest and a church?"

"No I haven't," I said, tearing at a fingernail. "Look, this is important. Call your mom and find out if you've got baptism and cresima certificates."

"Crazy what?"

"Oh," I groaned. "How do you say cresima in English? You know, that rite-of-passage thing Catholics do!"

The next day I got the good news. Dave was a certified Catholic with papers to prove it. That night Cinzia took me scouting for a wedding dinner location. Chasing up a narrow country road on the south side of the city, she took a wrong turn and stopped in what happened to be a little church's driveway.

"Oh, by the way," she said, "that's a sweet little church!"

I got out and peered through the darkness. We were on the crest of a hill. Ancient stone walls hugged the quiet via; cypress and Mediterranean pines rested against one another in slumber.

I curiously entered the shadowy courtyard, noticing the unadorned simplicity of the small church's stone facade. On the other side of a low wall I sensed a Renaissance landscape through the Tuscan darkness.