Il Pescatore is in a very charming position on Lake Como, next to the pebbled shore above the water. Pescatore means fisherman and this house was originally a fisherman's cottage. It is located in the quaint lake town of San Siro, on the sunny west side of Lake Como. This west shore has a particularly mild climate and one of the prettiest promenades of the entire lake. San Siro is built on a rock and has a series of alleyways very typical of Italian villages. In the village of San Siro you will find a small food shop, pizzeria, 15th century church, and a few other services including a bus stop to nearby Menaggio (5km) where the ferry is located. Menaggio is a nice size town with a variety of restaurants and shops.



Many water sports facilities are close by for boat rental, sailing and windsurfing. To access the house, guests park close to the village and walk approximately 200 meters. The way to the house leads along these cobbled paths (vicoli), therefore the house is not suitable for elderly guests or people with walking difficulties.

Check availability

Il Pescatore is bright and cheerful. There are several tall windows and some of these are French doors that open onto the myriad of balconies and patios. Flooded with light, the house offers lovely lake views from most every room. The pink and yellow exterior is very characteristic of this region.

Recent renovations have created an attractive and comfortable interior with tasteful furnishings. The stylish wooden furniture in natural colors contrasts with the whitewashed walls. A painted wooden boot garnishes the kitchen ceiling. Two of the three floors have balconies facing the lake. There are several outdoor areas for enjoying the views: There is a sitting area in front of the kitchen, behind which there is a pretty, sunny, stone patio. Stone steps lead down to the water where rock formations and pebbles decorate the shore. It is possible to swim directly in the lake from here. The lakefront is public and local residents and fishermen may also use this area.

You may moor a boat near the villa for a price of 50 euros per week.

Il Pescatore develops upward: it consists of two, non connecting parts, each with independent entrance. The ground floor (about 25 sq meters) features a nice studio flat with queen bed, kitchenette, bathroom with tub, and lovely terrace with a great view of the lake.

Behind, on the other side of the house, is the entrance to the main part of the dwelling. On the first level is a dining room with panoramic view and an open-plan fully equipped kitchen with access to an large furnished terrace with lake views. Up one level is the living room with satellite TV and WiFi Internet connection. Here there is a full bathroom with Jacuzzi tub and shower and bedroom with queen bed.

The top floor has a second queen bedroom with en-suite bathroom with shower plus a lofted area with two additional twin beds.

In the basement is a washing machine and a sauna.

Finally, there is third terrace that is fully enclosed and that has a barbecue and is nicely furnished.

- Guest Relations available throughout the stay at the villa. Highly personalized one-of-a-kind experiences for the guests organized by our in-house concierge
- Twice weekly cleaning service
- Twice weekly change of towels
- Weekly change of bed linen
- Electricity and heating
- Gardener

Upon request: Extra housekeeping, cook service, laundry and ironing, butler, transfers.

Refundable security deposit is 800 Euros.


2022 Weekly Prices

6-8 guests in 3 bedrooms with 3 baths


1 Jan - 11 Jun
27 Aug - 31 Dec

11 Jun - 27 Aug



Euros 2580



Euros 3100


Plus Euros 35 booking fee


2022 Weekly Prices

4-6 guests in 2 bedrooms with 2 baths


1 Jan - 11 Jun
27 Aug - 31 Dec

11 Jun - 27 Aug



Euros 2141



Euros 2573


Plus Euros 35 booking fee
Pets are permitted on request at Il Pescatore
Porter service is available until 5:00pm


Click to view the floor plan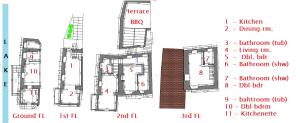 The area

In the small village of S. Siro you will find a food shop, a pizzeria and a bus stop. On the shore of the lake there are water sports facilities (boat rental, sailing, surfing), and there are a number of scenic trekking routes that begin at the lake.

Furthermore, S. Siro is a pretty, antique hamlet where you can still feel the atmosphere of the ancient past and view the beautiful castle with arcades dating back to the year 1000.

In Menaggio, located five kilometers from the house, there is a golf course and a tennis court. From Menaggio there are ferries to other villages on the shore and the lake islands. The city of Como is located 30 km to the south.