Vista Varenna can easily boast two of the most envious features found on the east side of Lake Como--a spectacular view encompassing all the three arms of Lake Como (including views of Bellagio) and a particularly panoramic swimming pool with breathtaking views.




The extensive sixty acre estate upon which the villa is located is uniquely beautiful with a variety of plants and trees including olive trees and rose bushes. Vista Varenna is part of a castle estate (the castle is located close by) and also offers a recreation room (15 m from the villa) with table tennis and a card table as well as a clay tennis court (400 m from the villa-15 Euros/hr day and 20 Euros/hr night), which is maintained by the local tennis club. The swimming pool is 100 meters from the house, and a pleasant new pathway has been created to it. Because the bedrooms and bathrooms are all upstairs, this villa is not recommended for guests with walking difficulties.



The sleepy lakeside town of Varenna is a ten minute drive down the hill (there is also a steep footpath down from the villa). It has a romantic promenade along the lake, a tiny harbor, narrow lanes and a handful of shops and restaurants. Its mid-lake position makes it a convenient access point to Bellagio and Menaggio by ferry. The train station in Varenna provides train access to Milan in about one hour. The main food shops are located in Varenna, therefore a car is highly recommended. There is a golf course in Menaggio, about 25 minutes from the villa.

Alta Varenna is a unique estate which combines the four accommodations of Vista Varenna,

Rossa Varenna

,

Giovanni Varenna

and

Piccola Varenna

. When rented together, a total of up to 31 guests can be accommodated, with a swimming pool, private gardens and an extraordinary Lake Como view available to all. These properties share the same entrance, parts of the garden, passages, paths, tennis court and a brand new bowls green. There is a reception office next to the recreation room for check-in, where there is an Internet point. On the estate there are three to five people working for gardening and maintenance. The father of the owner lives year round in one wing of Vista Varenna.

Varenna is a beautiful lakeshore town on lake Como. Built on a rocky promontory it was a sentinel for centuries at the heart of the lake. Varenna today is a quietly refined town with charming old houses and romantic panoramas. The climate is particularly mild, as witnessed by the presence of olive and cypress trees, as well as other botanical specimens normally found in much warmer climates. Along the lakefront is a romantic walkway, abounding in flush vegetation, linking the town center and Olivedo, the landing point for ferries and steamers. Varenna is the ideal starting point for a visit to the north and central regions of Italy and the southern Swiss Alps. It is less than two hours from Milano Malpensa airport and one hour from the Milano Linate airport. Places to visit: The Castle of Vezio (only a five minute walk from the villa). The gardens of Villa Monastera, a neo-classical garden offering a long walk along the lakeshore. Bellagio and Menaggio are 15 minutes away by ferry. Como with its ancient monuments, excellent shops and churches are near the villa, as are Tremezzo and the famous Villa Carlotta.


Vista Varenna features

The main villa is 130 square meters. Each attic apartment is 70 square meters.

Ground floor: Entrance through a patio/pergola which has lovely views and can furnished for pleasant outdoor dining. Small sitting room. Satellite TV. Kitchen with dining area.

First floor: One double bedroom, two twin-bedded rooms. One single bedroom (this bedroom does not have a door but a curtain which opens directly onto the hallway), two bathrooms each with bathtub and handheld shower attachment and a study with large arched windows making for a bright atmosphere.

A shared recreation room is available on the estate, which offers a living area, dining area, SAT TV, DSL line, and bathroom.

For groups renting Vista Varenna 11 or 15, it is possible to have exclusivity of the recreation room for a fee of 120 Euros per week. In this case, a fully equipped kitchen is also made available.

There are many large windows in the villa that face the garden making for a bright and airy interior. The patio is furnished with table and chairs for outdoor dining.

The ground and first floor comfortably sleep 7 people.

Guests can also choose to rent the second floor with two lofts to arrange for more people. These are rented only to provide additional room for the group and are not rented separately to other guests. Each loft accommodates four people and has an independent entrance in the kitchen area. Each loft has a small living room, a kitchen area with dining area and two bedrooms (one with a French bed, the other with twin beds) as well as a bathroom. Depending on the size of the group, the villa can be rented for 7, 11 or 15 people. A baby bed is available.

Two hours of maid service each Tuesday, Thursday and Saturday are included.

Pool towels are included.

An extra bed is available for 210 Euros per week.

A cell phone is available upon request.

Tennis courts can be reserved for 15 Euros per hour in the daytime and 20 Euros per hour in the evening.

Services available only upon request and charged separately include cook services, cooking lesson, advance grocery shopping, baby sitting, extra maid services and restaurant reservations. Extra linens and bath towels are available--cost provided on arrival.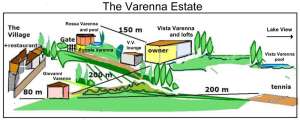 CLICK TO ENLARGE
Rental prices upon request