Karina is a striking and fully updated 19th Century Liberty-style villa that benefits from a particularly beautiful setting. This luxury accommodation overlooking Lake Como can accommodate up to 6 people.

The location is a short distance from the famous Villa d'Este hotel and George Clooney's lakeside villa. Karina is a 5 minute walk from the lake shore and the closest village is also within easy walking distance. In the village there is an ancient boatyard as well as restaurants, café/bars and food shops offering local products. The town of Como is 12 km from Karina and can be reached by car in about 10 minutes. You can also go by ferry or bus. The historic city centre is surrounded by old medieval walls and here you can enjoy the ancient monuments, fashionable shops and lakeside restaurants and cafés. Como also has the closest train station and Milan by train takes less than one hour.

The full apartment is now air conditioned and the downstairs has a kitchen corner with microwave and coffee machine.

By car you can explore Switzerland and the border town of Lugano is approximately 40 minutes away. Also just across the border is Foxtown, a designer outlet village with Prada, Dolce and Gabbana, Gucci and Ferragamo outlets .

Check availability

Karina measures approximately 285 square meters in size and comprises the raised ground floor and the garden level (lower-ground floor) of the villa. The picture below provides an outline of the living area. The top floor of the villa has two apartments that are not permanently inhabited. They owners may stay there on an occasional basis and have an independent and separate entrance from the back of the villa. The expansive grounds that run in front of the villa are for the sole and private use of our guests.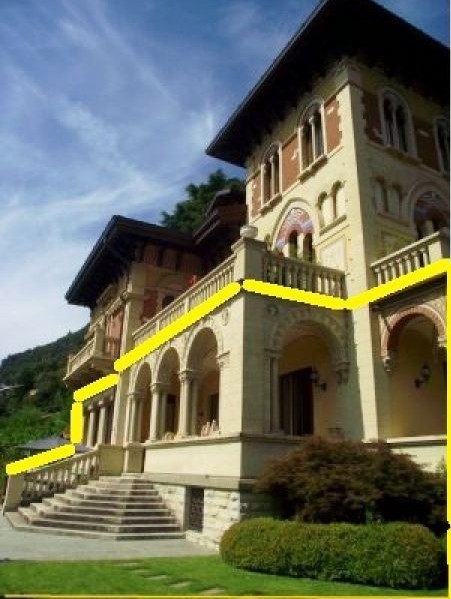 As you enter the villa grounds, you pass the 4 person hot tub, set in a corner of the well maintained garden where you can relax overlooking the attractive blue waters of Lake Como. Impressive stone steps lead up to the 70 sq meter terrace, which runs along the entire front of the villa. The terrace has vaulted ceilings and terrific lake views. The large dining table offers ample opportunity for enjoyable outdoor dining.

The main floor of Karina is air conditioned and you enter it from the terrace through large French doors. Here you find the office/library, which was once the original entrance hall. The office is well equipped with a television, laptop, printer and Skype telephone. The villa also has wireless (WIFI) Internet.

Turning left in the marble hallway, you come to the large living and dining room. This room is elegant in design and inviting with its overstuffed sofas and armchairs. The windows run the full length of the room offering nice light and beautiful views of the lake and surrounding mountains. There is direct access to the terrace from this room which also has wood floors with underfloor heating, Venetian stucco walls, Murano chandeliers and air conditioning.

There is also a large flat screen TV with satellite channels and a Bose surround sound audio system with speakers. The formal circular glass dining table can comfortably seat up to eight people.

The kitchen is located off of the living/dining room and is a well equipped designer kitchen. It features granite counter tops, newly updated appliances, a double oven, stove, microwave, dishwasher, and refrigerator with freezer. There is also a table for less formal dining.

Back along the hallway on the opposite side of the main entrance is the master bedroom suite. It has access to the garden through two French doors and is stylish with a queen designer bed, armchair and ottoman, silk tapestries and hand painted ceilings. Next to the master suite are two full-sized bathrooms. One is masculine and contemporary with a Teuco power shower and the other more feminine and refined with a Teuco ultrasonic Jacuzzi tub.

The lower ground garden level is reached externally with access from the garden. This level is comfortable and nicely appointed but more modest than the main floor. It does not have air conditioning. The garden level has a pleasant twin bedded room (beds cannot be joined) that has access to the terrace. This room has a modern feel yet is still in keeping with the classical surroundings. There is a bathroom with shower located next to this room.

Down the hall is a fitness room with large plasma TV. The room is private and can accommodate two additional guests on a double sofa bed. Next to the fitness room is a well equipped laundry room with washing machine, dryer, iron and ironing board.

The garden and grounds are comprised of established Mediterranean trees and plants and flowers that thrive in the local micro climate. There are shady areas with tables, chairs and loungers.

Due to the high quality of furnishings throughout the villa, children between 1 and 12 are admitted only upon request. Please inquire.

Because the garden level floor of Karina is more modest in quality and scope, the villa works best for one couple or a family with teenage/young adult children.

Karina is a non smoking apartment. It is possible to park two cars in an open area on the gated villa grounds. A garage is not available for guests.

Two hours of daily housekeeping services are included and a cook, outside catering and transfer can be arranged on request.

Bed, bath and kitchen linens: Included
WiFi Internet: Included
Housekeeping: Daily cleaning two hours per day seven days per week
Final cleaning: Included
Electricity/AC: Included up to Euros 50/week. Then metered according to usage
Gas/water: Included
Heat: 80 Euros per week
Security deposit: 1000 Euros
Upon request: Transfer, cook, extra maid service
Parking: Uncovered parking for two cars
Check in: between 4pm and 7:00pm – with approval of the owner, a late arrival is possible between 7.00 pm and 9.00 pm for an extra fee of 50 Euro
Check out: 8:00am – 10:00am



2021 Weekly Prices

PLEASE NOTE: This property is priced in EUROS


| | |
| --- | --- |
| All other weeks | 12 June - 28 August |
| Euros 6660 | Euros 8380 |

Plus Euros 35 booking fee


THE AREA
The part of the lake from the town of Como to Tremezzo is a sophisticated resort and here you come for the scenery, for shopping, breathing the luxury, and enjoying the views from the stylish restaurants and cafés. The ancient villages and enchanting gardens are the setting for the historical villas of the Lombardy aristocracy and offer a pleasant stay at any time of the year.

The best way to enjoy the views of the ancient villas and their gardens is by boat.

SUGGESTED ACTIVITIES

• Enjoy the views of the villas from the lake
• Visit the villas and gardens
• Shopping - not only for silk
• Spend the evening in Campione at the gaming table
• Go hiking
• Taste the local cuisine
• Visit the art exhibitions
• Relax, relax, relax

COMO
The city of Como is 12 km from the villa and can be easily reached by ferry (10 minutes), and by bus. The historic city centre is surrounded by old medieval walls, and here you can enjoy the view of charming corners, ancient monuments and fashionable shops.

BELLAGIO
Bellagio, also known as the "Pearl of the Lake", is considered one of the most romantic villages on Lake Como. It is a small town with pastel coloured houses and offers many itineraries on foot and spectacular views. A visit to the gardens of Villa Melzi cannot be missed.

ISOLA COMACINA
Isola Comacina is the only island in Lake Como and is full of history and memories. The Locanda dell'isola is a unique and exclusive restaurant where you can enjoy the long-standing ritual of the flambéed coffee prepared and offered to guests by the owner. About 8 km from the villa: By boat about 10 minutes away across the lake.

LAKE COMO SHOPPING
The Silk town: Como is famous for its silk factories and luxurious fabric. There are many outlet stores and boutiques where scarves, ties and fabrics by major designers can be bought at excellent prices.

Foxtown, Mendrisio Switzerland - An outlet center just across the Swiss border that offers products from the best known international companies and brands at factory prices, with discounts from 30% to 70% for intelligent shopping (bring your passport)

LEISURE ACTIVITIES
Water Sports: water skiing, boat hire, jet skis, kayaks, regattas with the Cannottieri Moltrasio yacht club.
Hiking: marked paths leading to the top of Mount Bisbino
Casinos: Campione d'Italia Casino, Mendrisio Casino at Fox Town, Lugano Casino.
Golf courses: nine courses within 50 km. Golf Club Carimate, Golf Club Menaggio & Cadenabbia, Golf Club Lanzo, Golf Club Ponticello, La Pinetina Golf Club, Golf Club le Robinie, Golf Club Villa d'Este, Green Club Lainate.
Shopping: in Como, Bellagio, Lugano and Fox Town in Mendrisio.
Nearby attractions: Gardens and charming historic Villas: Villa Carlotta, Villa Balbianello, Villa Melzi, Villa Olmo, Villa Passalacqua, Villa Fontanelle (Versace's former home), Villa Oleandra (George Clooney's home). Isola Comacina with its famous Locanda dell'Isola inn and the house planned by the King of Belgium.

LAKE COMO VILLAS

VILLA CARLOTTA is one of the most famous villas in this area. Set on the western shore of Lake Como in Tremezzo, facing Bellagio the villa is a place of rare beauty where a botanical heritage of more than 500 species of plants can be admired in the gardens.

VILLA DEL BALBIANELLO Lenno
This 18th century villa stands on luxuriant headland dropping directly to the lake. Its terraced gardens offer the most spectacular view of the lake

VILLA PIZZO Cernobbio

VILLA MELZI Bellagio
Neo Classical villa built between 1808 and 1810 and surrounded by a charming English garden. The interior is decorated in the typical neo-classic style with fine works of art, stucco decorated ceilings, sculptures and frescoes.

VILLA OLMO Como
Located in town, Villa Olmo( 1780 ) has been frescoed by famous artists. Today the villa is the setting for major events such as the Autumn Music Festival. Exhibitions, music and dance recitals.

VILLA ERBA Cernobbio
A sumptuous 19th century villa set in the middle of a beautiful garden. Since 1986 the villa has been corporately owned by a company and has been transformed into a conference center.

PRIVATE VILLAS

VILLA PASSALACQUA Moltrasio
This magnificent 17th century villa has beautiful terraced gardens and frescoed ceilings. It is owned by an American who has made it his Italian home. Many important people have lived here including Vincenzo Bellini who composed La Straniera and La Sonnambula in this villa.

VILLA FONTANELLE-VILLA VERSACE Between Cernobbio and Moltrasio
This elegant eighteenth-century villa, surrounded by a garden with Mediterranean plants, is famous because it was the home of designer Gianni Versace.

VILLA OLEANDRA Laglio
This villa is now famous all over the world because it was purchased and renovated by American actor George Clooney