Podere DiVine is now available to groups of up to
6 guests at a reduced price.

Podere DiVine is simply that…Divine!

This charming farmhouse is a characteristic Tuscan Casale surrounded by 6 acres of remarkable vineyards. Some of these are famous for producing award winning wines as recognized in wine magazines such as the Wine Spectator. The awe inspiring views reach as far as Montepulciano, Cortona and beyond.

The brick and stone farmhouse dates back to the mid 1800's and is being completely renovated by a dynamic young couple. He is Italian and she is American and they bring a mix of both their tastes and backgrounds to the renovation. No energy has been spared to provide a gracious, traditional and stylishly appointed accommodation with the most up-to-date amenities.

The villa can sleep 12 guests in six bedrooms, each with en suite bathrooms. There is an independent air conditioning unit in each of the 6 bedrooms. Air conditioning is just in the bedrooms at Podere DiVine. The great room and common areas are naturally cooled due to the width of stone walls, span of the arches, the of height of ceiling and the cross breezes from the valley and hills.

The total villa capacity is 16 guests since two of the bedrooms have an attached living room area with sofa bed. Each can accommodate two additional people for an extra fee.

Podere DiVine is now available to groups of up to 6 guests at a reduced price. The offering for 6 people comprises the ground floor of the villa, which has three large bedrooms all with en suite bathrooms and air conditioning. This also includes the large living room and library, dining room and large family style kitchen. Guests renting only the ground floor will be exclusive (no other paying guests) although occasionally a caretaker may stay discretely in the upstairs apartment. Of course guests will have full access to the pool, yard, fruit orchard, vineyard and terraces.

This villa includes our special "arrive and relax" package and wine tasting by the owner sommelier.

The property owner is a winemaker, graduated sommelier, owner of a boutique winery, and is happy to offer wine tasting as well as informal conversations about vineyard development.

A simple Tuscan dinner is provided on your arrival night. This is a welcome sight after a long flight and will allow you to check in, unpack and relax. You will find the dinner in the kitchen with the instructions for heating. The dinner is also suitable for vegetarian guests. It basically consists of a pasta al forno, a vegetable tarte, salad, and fruit. Bread, water and wine are included. No changes are possible for the first dinner.

The villa also will be stocked with basic groceries so that you do not have to shop upon arrival or worry about store closures on Sunday. The shopping list consists of: milk, coffee, tea, bread, biscuits, sugar, salt, water, fruit, eggs, oil, butter, jam, orange juice, cereals. The quantity of the items will be adjusted by the staff according to the number of guests.

Check availability

The location near Montepulciano is ideal. Famous for its Vino Nobile di Montepulciano, Montepulciano is a graceful hill town with historic center just 6 km (10 minute drive) from the villa. It has supermarkets, bakeries, pharmacists, wine shops and a variety of other services. Distant views of Cortona are visible from Podere DiVine and this famous hilltown is about 20 minutes away. The Umbrian border is also within easy striking distance. Umbria is a timeless landscape of medieval hill towns such as Assisi and Perugia. The nearby shores of Lake Trasimeno provide public beaches.

Just 4 km from the villa is a small village that has bus service to towns throughout the area. S. Quirico, Pienza, and Montalcino are all part of this area known as the Crete Senese with its dramatic rolling hills dotted with vineyards. Siena is about an hour away. It is possible to leave your car in Chiusi (approximately. 25 minutes away) and take a high-speed Eurostar train to Florence or Rome in a little over an hour. This area is also known for its thermal waters and there are four hot springs spas within 20-30 minutes of the villa.

Podere DiVine is a 'top of the hill' property with a southwest facing orientation. It benefits from long sun exposure during winter days and refreshing breezes during the summertime. The entire estate is 2.5 hectares (6 acres) in size, of which 1.5 hectares (4 acres) is a vineyard. There is a small woodland that divides the villa from the vineyard and about 1000 square meters of fruit trees of various types that mature and bear fruit from May through October. The remaining area is the villa itself, the swimming pool and several outdoor terraces that wrap around the villa. There are views from all of the terraces. Depending on the time of day, meals can be taken on the various terraces with different viewspoints. It is impossible to grow weary of the views here!

The main patio/ terrace overlooks the pool and is comfortably furnished for al fresco dining for up to 16 guests. There is also a BBQ. The swimming pool is 5mx10m. Pool opening dates are from May 14 – September 25.

Access to the villa is by way of a well – maintained gravel "white" road with no steep parts. Normal cars are able to navigate it in all weather conditions. The road passes the villa and is a provincial road that is used only by local residents and agricultural vehicles tending to the surrounding vineyards.

Accommodation: (475 sq meters villa, 55 sq meters annex) – Sleeps 16 - 6 bedrooms/ 6 ½ bathrooms

The house has been designed to give a sense of openness and light. Wireless Internet is available throughout. Two kitchens and several living rooms provide ample opportunity for guests to be together and to also be separate.

There are 6 bedrooms each with en suite bathroom. All have independent air conditioning units and screens on the windows. They are set up to be matrimonial queen size beds however the beds in 4 of these bedrooms can be separated into two twin beds, if needed. Two of the bedrooms have an attached living room area with a sofa bed that can each sleep two additional people. All bedrooms have en suite bathrooms. Five of the bathrooms have a shower and one has a shower and bathtub. There is also a guest bathroom with toilet and sink on the ground floor.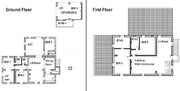 please click floor plan to enlarge
GROUND FLOOR
Great Room:
Characterized by large arches and terracotta tile floors, the great room (60 sq meters/ 4 meters tall) is an area for groups to relax and enjoy time together. The room is graced with two large arched doors, leading out to the front of the house and patio with views of Montepulciano. The room has two seating areas. One is centered around the wood burning stove and has two large couches, armchairs and coffee tables, perfect for enjoying a snack and a glass of local wine. The other seating area is a lounge area with large satellite TV, DVD and CD player and bookshelves. Here too there is a couch and large chairs. The furniture is especially comfortable and relaxed and floor rugs give a warm and pleasant feel.

Kitchen:
The large family style kitchen is open and airy and welcomes both the serious and the not-so-serious cook. There is plenty of room for both. It measures 50 sq meters in size and is highlighted by broad arches and a large glass door that leads out onto the back patio. Contributing even further to the brightness of the space are several large windows, two of which have screens, that offer terrific views. The fully functional kitchen has a 6 burner stove, oven, dishwasher, large American refrigerator and all of the kitchen equipment that goes along with meal preparation and service for a large group. Counter space is bountiful and there is a long dining table with room for at least 12. The table can also be used as a work surface.

Dining room/wine enoteca:
The second formal dining room is 25 sq meters and is distinguished by several display cases for wine. There is a 10 person table for formal meals. It is also here that the owner conducts his wine tasting of local regional wines and discusses viticulture and the wine making process.

The open space off of the dining room and wine area includes a large staircase that leads to the first floor, a guest bathroom and a laundry/utility room. Here there is a washer, dryer, ironing facilities and extra guest linens.

Bedroom 1 (Camera Il Tramonto):
The largest bedroom on this floor, it measures 48 sq meters in size and has an en suite bathroom with large walk-in shower. The room is divided into a sleeping area and a seating area. The bed is a matrimonial size bed (1.70 x 2.0 m) and can be divided into two singles, if preferred. In the seating area there is a sofa bed which can sleep an additional two people by becoming two single beds. The room also has a wardrobe, a small desk and access to two different terraces, one for sunrise views and the pool area and one for sunset views.

Bedroom 2 (Camera Il Cipresso):
This bedroom is 22 sq meters in size and has an en suite bathroom with large walk-in shower. There is a matrimonial size bed (1.70 x 2.0 m) that can divide into two singles, if preferred. There is also a wardrobe, a small table with chair and an external door to the front yard encompassing broad views.

Bedroom 3 (Camera Il Giardino):
This bedroom is 30 sq meters in size and has an en suite bathroom with large walk-in shower. There is a matrimonial size bed (1.70 x 2.0 m) that can divide into two singles, if preferred. There is also a wardrobe, a small table with chair and an external door to the back garden that has sweeping views.

ANNEX
Bedroom 4 (Camera Il Frutteto):
The annex is a separate 55 sq meter structure with a bedroom, living room, private bathroom and air conditioning. It is only a couple of meters from the house with an external door that overlooks the fruit trees with a private terrace. The main bed is is 2.0m x 1.7m and can be divided into singles if preferred. In the living room area there is a sofa bed that can sleep another two guests. The bathroom has a large standup shower, 90cm x 90cm.

UPPER FLOOR
The first floor can be accessed both internally and externally (16 steps of recovered travertine marble steps).

Bedroom 5 (Camera Il Poliziano):
This bedroom is 32 sq meters in size and has the largest bathroom in the house. There is a large corner bathtub and generous walk-in shower. The bathroom also has beautiful panoramic views from its two windows. The bed is a matrimonial size bed (1.80 x 2.0 m) that cannot separate. The room also has two large wardrobes, a chair, small table, desk and views from its two windows.

Bedroom 6 (Camera Il Nobile):
This bedroom measures 24 sq meters and features a large walk-in shower in the en suite bathroom. The matrimoniale bed (1.70 x 2.0 m) does not divide. The room also has a vanity table with mirror from the 1800's, a built-in wardrobe and table with two comfortable chairs. The views from this bedroom are also far-reaching.

Kitchen:
This additional kitchen is very convenient for large groups and it has a dishwasher, 4 burner stove and small refrigerator. The centerpiece of the room is a fireplace which can also be used as a grill. There is a table that seats up to 10.

Living room:
There is also a comfortable living room on this floor that has a large L-shaped couch and satellite TV. There is also a smaller seating area with two chairs and a table. Both the internal staircase and the external staircase enter this living room.

Bed and bath linen: One set of bed and bath linen per week included in the price.
Maid service: 3 hours on Wednesday and Saturday
Arrival dinner and grocery shop: Included
Wine tasting on arrival day: Included
WIFI/Fast Internet: Included
Final cleaning: Euros 225 - paid on site in cash
Electricity: Included up to Euros 100; after metered according to consumption
Babybed: Euros 100
Extra bed: Euros 150/person/week up to four guests
Heat: metered according to consumption
Security deposit: 800 EUROS

Upon request: Cook service, transfer, extra maid and laundry service
Check in: between 4pm and 7:00pm – with approval of the owner, a late arrival is possible between 7.00 pm and 9.00 pm for an extra fee of 50 Euro
Check out: 8:00am – 10:00am

2010 Weekly Prices

12 Guests (6 bedrooms)
Four additional guests can be accommodated for a fee of Euros 150 per person. Maximum villa capacity is 16 people.
PLEASE NOTE: This property is priced in EUROS

High season
June 26 - August 28
EUROS € 3995/week
Mid season
April 3 - 10
May 1 - June 26
August 28 - October 2
December 18 - January 8 '11
EUROS € 3565/week
Low season
All other weeks
EUROS € 3190/week
Plus $35 booking fee.
6 Guests (3 bedrooms)

PLEASE NOTE: This property is priced in EUROS
High season
June 26 - August 28
EUROS € 2940/week
Mid season
April 3 - 10
May 1 - June 26
August 28 - October 2
December 18 - January 8 '11
EUROS € 2565/week
Low season
All other weeks
EUROS € 1995/week
Plus $35 booking fee.

Pets are not permitted at Podere DiVine.

Distances
Grocery shops, cafe bar, restaurant, post office 4 km
Historic center of Montepulciano 6 km
Chianciano Terme 6 km
Lake Trasimeno 18 km
Pienza 20 km
Chiusi 20 km
Cortona 26 km
San Quirico d`Orcia 27 km
Montalcino 38 km
Arezzo 50 km
Orvieto 50 km
Perugia 60 km
Siena 60 km
Viterbo 70 km
Assisi 80 km
Florence 120 km
Rome 150 km

Activities
Swimming, hiking, horse riding, tennis 6 km
Thermal spas Chianciano 6 km
Golf 25 km
Wine tasting on property and also in countryside of Montepulciano: within a 10 km range there are more than 25 vineyards for winetasting
Montepulciano wildlife bird reserve for bird watching, bike ride, walking 5 km