CASA CECILIA
Cortona - Arezzo/Cortona area - Tuscany
Property ID: 6780
Rating:

Sleeps: 8-16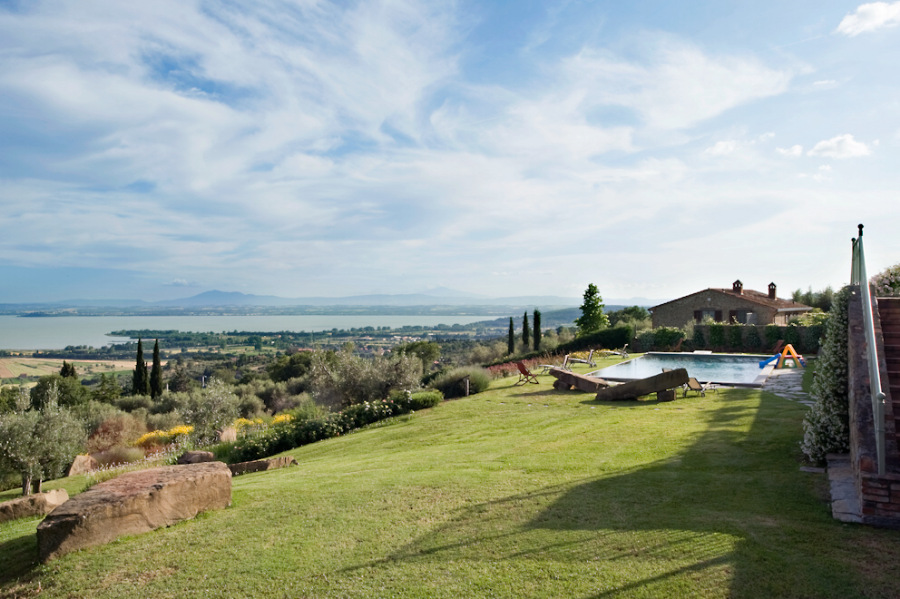 - Premium selection
- Independent house
- Washing machine
- Swimming pool

- 8 bedrooms
- 7 baths

- Dishwasher
- Outdoor pizza oven
- Beaches nearby
- Wireless Internet
- Panoramic view
- Screens
- Baby bed available
- Barbecue
- Clothes dryer
- Fireplace
- Garden, terrace
- Great for hiking and biking
- Maid Service
- Oven
- Satellite TV

See approximate location


Located on the Tuscan/Umbria border, Casa Cecilia is a beautiful stone farmhouse offering fabulous views of Lake Trasimeno. Its young Florentine owners have tastefully and attentively restored the house. Tuscan and Umbrian artisans were enlisted and have presented an exquisite mix of traditional rustic style and gracious elegance. Set on a hill overlooking Lake Trasimeno and surrounded by olive and oak trees, Casa Cecilia faces the lake and its windows frame breathtaking views from each floor. The three-story house, made of local "pietra serena" stone, chestnut wood, has floors of handmade Umbrian tile and the walls are hand painted in natural colors.

Smaller group rates are available -- please inquire.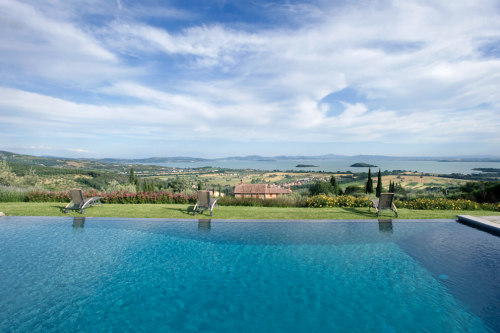 The house combines comfortable country furnishings and beautiful Italian design. The bathrooms are crisp and modern with attractive finishes and the kitchen is well equipped with up to date fixtures and appliances. Those who love to cook will find the kitchen welcoming and easy to use. It will certainly invite those creative juices to start flowing. On the other hand, if this is truly a holiday with no labor, a local cook using regional recipes would be happy to come and prepare a dinner or even conduct a cooking lesson. These and other services such as wine and olive oil tasting tours are available upon request.

Casa Cecilia has 8 bedrooms, each with their own individual color scheme and window screens. The game room with pool table is an ideal playroom for children. The long mosaic pool with shaded area and changing room with shower is set into wide grassy terraces with olive trees below offering ample space for play.

Guests can gather for an al fresco meal under the magnificent pergola covered with wisteria. The table is noteworthy as it is a single slab of dark hardwood that is very impressive. A pizza oven and barbecue are located nearby and come in quite handy. The views from all points of the property - the pool, the house, the pergola – are truly remarkable. Lake Trasimeno appears magical in the distance.

This location allows visiting the best of Tuscany and of Umbria. Cortona, of "Under the Tuscan Sun" fame, is less than a half hour away with other Tuscan towns such as Montepulciano, Siena and Arezzo within easy striking distance. Umbria is a timeless landscape of medieval hill towns, famous for its tranquility and hospitality. The quiet shores of Lake Trasimeno, Italy's fourth largest lake, is perfect for exploring as is Perugia, Assisi, Orvieto, and the many other charming hill towns of Umbria. Convenient train service north to Florence takes about 90 minutes and for Rome to the south, there is a train that takes about 2 hours. A chance to meet local people and share in their love of good food and wine is provided by the numerous festivals or "sagre" held in small villages throughout the region each summer. Umbria is a welcoming and accessible region and offers a wealth of attractions as well as an ideal base for a wider exploration of central Italy.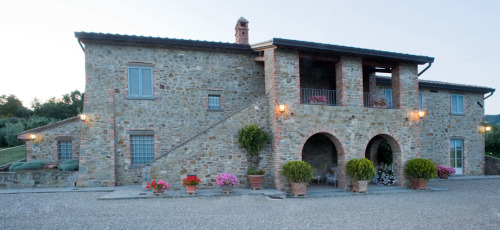 Accommodation: (500 sq meters) – Sleeps 16 - 8 bedrooms / 7 1/2 bathrooms:

GROUND FLOOR: Spacious and beautifully furnished living room with fireplace and satellite TV ; study with WiFi internet access; large dining room; well-equipped kitchen decorated with antique painted tiles, outfitted with 2 dishwashers, large refrigerator/freezer, professional oven, washer and dryer; Master bedroom with en suite bathroom with bathtub and separate shower; guest bathroom with WC
FIRST FLOOR: 4 bedrooms with king or queen beds and en suite bathrooms; 1 bedroom with twin beds and en suite bathroom; cozy study heated by an old Swedish woodstove in cooler months; cathedral ceiling with skylight, opening onto a panoramic terrace.
SECOND FLOOR: 2 double bedrooms, one with a queen bed and one with a king bed; 1 bathroom with shower – the bedrooms are more modest on this floor; large comfortably furnished lounge perfect for reading and relaxing with three comfortable cushions and an English billiard table
GROUNDS: Swimming pool (16X7m) set in panoramic position above Lake Trasimeno; shaded area with a shower and changing room; outdoor pergola, barbecue and wood pizza oven.

The villa is in a high position which takes advantage of the cooling breezes from the lake. Portable fans are provided if needed.

Pricing and Availability upon request

Distances:
Local shops in Vernazzano - 3 kms., Perugia - 30 kms., Cortona - 15 kms., Assisi - 60 kms., Florence - 100 kms., Rome 225 kms.