TRAVELING IN 2011? PLEASE CONTACT US!

Villa Morellino is located in the Maremma, near the town of Scansano on the southwest coast of Tuscany. Named for the region's superior red wine, Villa Morellino is a recently restored country house with a hilltop position and distant view of the Mediterranean Sea. The villa accommodates 10 people and consists of 5 bedrooms, each with bathroom. With its many welcoming spaces inside and out, Villa Morellino is an ideal place for a gathering of friends (perfect for couples), family reunion or private getaway.

Check availability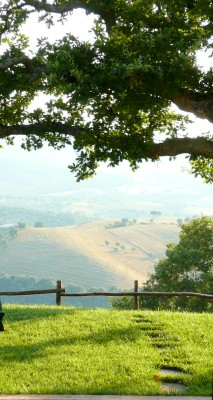 The Maremma is still remarkably off the beaten track for both Italian and non-Italian tourists, despite its many attractions. Ancient traditions flourish and authentic Tuscan culture lives on.

The well-known coastal town of Scansano is a 10 minute drive from the house and is well respected for its art exhibitions, food festivals and excellent restaurants. Grosseto, at just 18 km, is one of the principal cities of this area. The Maremma is an ideal spot for enjoying the beautiful well-preserved beaches of the Tuscany coastline and the renowned harbor of Punta Ala. Rome, Florence, Pisa and Siena, world famous for their artistic heritage and stunning beauty, are within good striking distance. The Natural Uccellina Park and Marine Argentario Park are remarkable in their natural and unspoiled beauty. Their sandy beaches are only 30 minutes away.

This villa offers our special "arrive and relax" package:

A simple Tuscan dinner is provided on your arrival night. This is a welcome sight after a long flight and will allow you to check in, unpack and relax. You will find the dinner in the kitchen with the instructions for heating. The dinner is also suitable for vegetarian guests. It basically consists of a pasta al forno, a vegetable tarte, salad, and fruit. Bread, water and wine are included. No changes are possible for the first dinner.

The villa also will be stocked with basic groceries so that you do not have to shop upon arrival or worry about store closures on Sunday. The shopping list consists of: milk, coffee, tea, bread, biscuits, sugar, salt, water, fruit, eggs, oil, butter, jam, orange juice, cereals. The quantity of the items will be adjusted by the staff according to the number of guests.

The Villa Morellino estate measures 18 hectares (45 acres) in size. With its views over the vineyards, olive groves and pasture, it gives a truly authentic feel of the gentle Maremma countryside. The swimming pool (not fenced) to be completed in spring 2009 will measure 10 m x 4m and will be located in a panoramic position approximately 50 meters from the house.

Pool opening dates in 2010: May 14 - September 25.

Much thought has been given to providing a comfortable environment inside and out. Off of the living room and accessed through French doors, is a large outdoor patio furnished with comfortable couches for relaxing and enjoying the view. Another set of French doors in the kitchen leads to another exterior patio with large table (12 people) for al fresco dining. Behind the kitchen there is another garden space with pizza oven, BBQ, table and chairs for 8 people.

The inside features stylish and inviting interiors decorated with antiques and typical Tuscan style furniture.

Villa Morellino is located between Scansano, home of the famous Morellino wine, and the Argentario coast and offers a perfect compromise for those seeking a peaceful countryside experience at only a 30 minutes drive to the seaside. You can enjoy the beach and blue water during the day and revel in the breezy freshness of the countryside in the evening.

The Villa Morellino is accessed along 400 meters of unpaved road.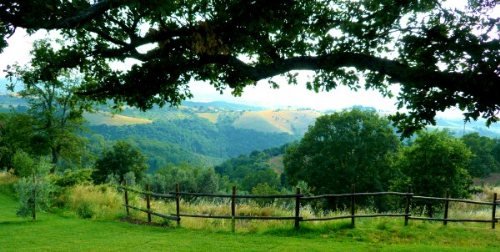 ACCOMMODATION: 330 sq meters

Ground floor
1 patio with two comfortable sofas leading to the living room
1 living room with working fireplace and large French doors (screened) opening onto the garden
1 large kitchen with dishwasher and dining table for 10; French doors (screened) lead to another patio with a large table (12 people) for al fresco dining
1 garden space behind the kitchen with BBQ, pizza oven, table and chairs
1 master bedroom, en suite bathroom with shower; easily accessible for guests with walking difficulties (bathroom is 320 x 210 cm with a shower of 95 x 90 cm)
First floor
4 double bedrooms, each with en suite bathroom with shower (one of the bedrooms has an additional bed). Bathroom sizes: 2 bathrooms are 190 x 190 cm with shower of 70 x 70 cm, 1 bathroom is 230 x 150 cm with shower 70 x 70 cm, the fourth bathroom is 320 x 150 with shower 100 x 75 cm. All bedrooms on this floor can either be made up as one queen (matrimoniale) bed or two twin beds.
Amenities: Dishwasher, washing machine, electric oven, drip coffee machine, satellite TV/DVD, fast internet access, BBQ, pizza oven, telephone (local calls only), parking for three cars. There are screens in all of the bedrooms, bathrooms, living room and kitchen.

Included in the price: Daily housekeeping (three hours/day), bath linen change on Wednesday and Saturday, bed linen changed on Saturday, utilities except for heat. Also included is a first dinner and basic grocery shop.

Supplemental costs to be paid on the spot: final cleaning (150 Euros), pet cleaning (60 Euros/week), heat is metered, security deposit (Euros 1000) utility deposit for heat (350 Euros from October to April)

Upon request: Babysitter, cook service, transfer service, extra house cleaning (10 Euros/hour), laundry service (10 Euros/hour), babybed, wood for fireplace, late arrival (7pm to 9pm)
Rental prices 2010

PLEASE NOTE: This property is priced in EUROS. You will be charged the equivalent in US dollars.
High season
June 26 - August 28
EUROS € 3875/week
Mid season
April 3 - 10
May 1 - June 26
August 28 - October 2
December 18 - January 8 '10
EUROS € 3500/week
Low season
All other weeks
EUROS € 3125/week
Plus $35 booking fee
For more than 3 children please inquire. The locally grown estate products can be purchased directly on site.

A well behaved dog is accepted. Please note that, as with many of the large countryside properties, there is an entrance gate to the estate but a fence does not enclose the property. There are two small resident dogs that live in a separate enclosed area of the grounds.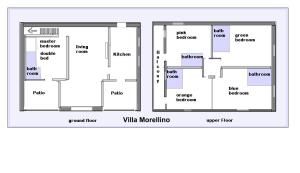 Distances:

Scancano - 6 km (shops, post office, urgent care, etc)
Restaurant - 3 km
Bus stop to Grosseto - 900 m
Grosseto (train station) - 18 km
Pitigliano - 30 km
Capalbio - 40 km
Siena - 70 km
Orvieto - 80 km
Florence - 125 km
Rome - 120 km

Activities:
Horseback riding - 800 m
Tennis - 18 km
Spa, Golf - Saturnia 30 km
Golf - Argentario 30 km
Golf - Punta Ala 90 km
Argentario beaches - 30 km

ABOUT THE AREA

The success of the Morellino wine is highly recognized. It was granted DOCG status in 2007 which is the highest level of appellation in the Italian system. This honor is reserved for products with outstanding merit. Many wine cellars and shops dot the Scansano area and welcome guests to sample their excellent wine and other typical local products.

The Maremma is famous for its butteri, cowboys who until recently rode horses to manage the distinctive Maremma cattle. Butteri still saddle up for festivals and other special occasions, and horseback trekking is readily available for visitors.

A beach of fine sand stretches along the coast. The water is clean and usually warm enough to swim in from mid-may to October. The islands of Giglio and Giannutri can be reached by daily ferries.

The Maremma also has a rocky part to its coastline, composed of peninsulas where the hills extend to the sea, interspersed with beautiful bays, many of them ideal for swimming. Castiglione della Pescaia is probably the best known of the fishing village beach resorts. Vast pine forests border many of these beaches and there are still a few undrained marshes now protected as wildlife parks, the most famous of which is the Parco dell'Uccellina. These areas teem with wildlife, most notably a wide range of spectacular bird species.