Villa Virginia is a beautiful villa situated on the shores of the stunning Lake Como. The villa is surrounded by a classic landscaped garden with a panoramic terrace and a private dock. It shares the romantic waters of Lake Como with the nearby famous Villa d'Este hotel in Cernobbio and George Clooney's residence in Laglio.



Villa Virginia can be booked for short stays of 4 or 5 days in low season (no arrive and relax). Contact us for details.



Villa Virginia is fully air conditioned throughout the property. There is a new swimming pool (10.2m x 4m and 1.5m deep) in a beautiful lakeside position. The pool can be heated for an extra fee, and can be covered at night to keep it warm and clean.

Check availability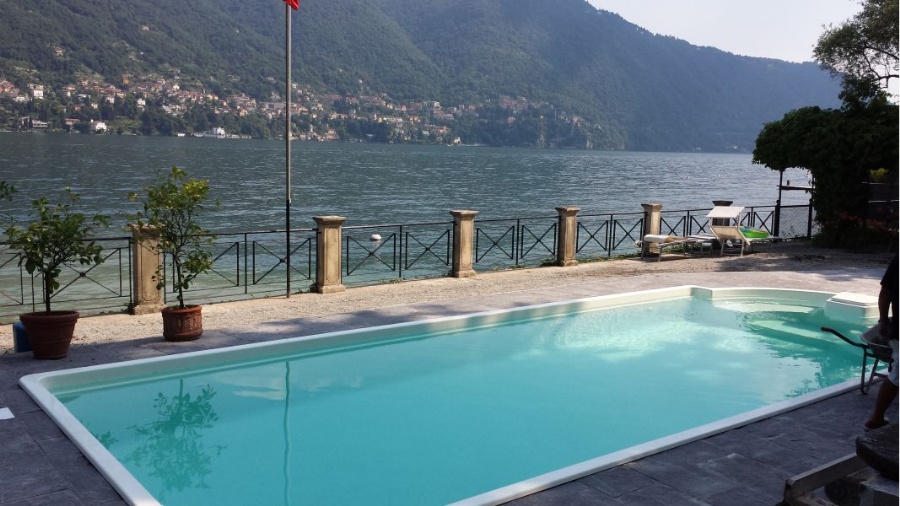 This beautiful Lake Como Villa dates back to the beginning of the century and still belongs to the Swiss family that built this as their holiday home after falling in love with the region during an Italian vacation. It was carefully restored and updated in 2008. The owners tastefully furnished and embellished it, while striving to retain many of its original characteristics and balancing them harmoniously with modern comforts. The restored villa includes classical tapestries and fabrics, floors made from fine wood with geometric inlays, beautiful painting on the walls, family period furnishings, a modern and fully equipped kitchen, WiFi internet connection, and a Plasma TV with satellite reception.

Villa Virginia can also be rented for up to ten guests at a reduced price. Please see Villa Virginia 10.

The property is situated in a peaceful and beautiful, yet convenient location. The villa looks directly onto Lake Como and has a lovely private garden and boat dock. Its location, a few kilometers from Cernobbio and only 7 km from the center of Como makes Villa Virginia an ideal destination for both tourism and business. Public transportation is also easily accessible from the villa as there is a bus stop 150 meters away and the Navigazione dei Laghi ferry is 400 meters away.

From Villa Virginia's 70 square meter terrace guests will enjoy a full view of the lake and can sunbathe or dine al fresco in complete privacy. Lake access for swimming is also available. For your enjoyment, there also a heated Jacuzzi spa in the garden, with a panoramic view of the lake. From the villa's private dock, guests can use a rental boat or water-taxis to visit the charming villages of Lake Como, Menaggio Bellagio, and Tremezzo. A variety of restaurants and shops are at walking distance.

As with all the lakeshore villas the lake road is located behind the property. Please note that this is not the main Lake Como road, but a smaller local road. Rooms that do not face the lake are provided with triple glasses to ensure that guests enjoy a quiet and peaceful ambiance.

Bedrooms are located on the upper levels of the villa. For guests with walking difficulties, it is possible to place a single bed on the ground floor in the living room area. Please inquire about this when booking. Kindly note that the bathroom with shower on the ground level is not wheel chair accessible. Guests with walking difficulties should also note that the parking area is not on the same level as the villa entrance.

Villa Virginia 16 accommodates up to 16 guests. Upon request and for an extra fee, an additional guest can be accommodated. Please request at the time of booking.

Villa Virginia offers our special "arrive and relax" package:

A simple dinner is provided on your arrival night. This is a welcome sight after a long flight and will allow you to check in, unpack and relax. You will find the dinner in the kitchen with the instructions for heating. The dinner is also suitable for vegetarian guests. It basically consists of a pasta al forno, a vegetable tarte, salad, and fruit. Bread, water and wine are included. No changes are possible for the first dinner.

The villa also will be stocked with basic groceries so that you do not have to shop upon arrival or worry about store closures on Sunday. The shopping list consists of: milk, coffee, tea, bread, biscuits, sugar, salt, water, fruit, eggs, oil, butter, jam, orange juice, cereals. The quantity of the items will be adjusted by the staff according to the number of guests.

Technical description

Villa Virginia is 600 square meters, develops on three floors plus the basement, and is set on a 2000 square meter property.


Ground floor:
entrance
double living room with sofas, period furnishings, plasma satellite TV; French doors open to the terrace and beautiful lake view
spacious dining room with fireplace; French doors opening to panoramic terrace
well-equipped modern kitchen with five-burner stove, dishwasher, coffee maker, refrigerator with icemaker, microwave, toaster
bathroom with shower
2nd well equipped kitchen with Weber BBQ. This kitchen offers 40 types of wine and champagne available for purchase and a separate refrigerator for beer (4 types).
Upper floor - sleeps 8
(4 bedrooms - 4 bathrooms)
4 queen bedrooms with lake views
1 bathroom with double sinks, Jacuzzi claw-foot tub and separate stall shower with steam and water massage
1 marble bathroom with bathtub and handheld showerhead
1 bathroom overlooking the terrace with shower and hydro massage
1 marble bathroom with Jacuzzi tub and handheld showerhead
study with high speed Internet connection
Mansard - sleeps 8 (no lake view from this floor)
(4 bedrooms - 2 bathrooms)
large king bedroom (bed cannot be separated) with adjoining single bed, TV and wardrobe.
3 twin bedrooms (beds cannot be joined)
1 large bathroom with shower and Jacuzzi tub
1 bathroom with shower
Basement:
laundry room with washing machine; wine cellar, with additional wines to purchase as well as olive oil and salami, and a tasting area with sofas.

Outside:
Large 70sqm terrace facing the lake.
Private dock
Outdoor Jacuzzi spa (heated) for six, located in the garden, with a panoramic view
parking for 4 cars - an underpass with stairs connects the rental to the caretaker's house where the 4 cars can be parked.

Amenities
Air conditioning throughout the property, fireplace, washing machine, dishwasher, electric oven, microwave, toaster, coffee machine, barbeque, satellite plasma TV, DVD player, stereo/CD player and WiFi internet connection. Pool open in 2022 from May 7 to September 24.

Services included:
Pool towels. Fast Internet connection. Arrival dinner and initial basic grocery shop

Supplemental costs (paid in cash on site):
Service package is 350 Euros per week, which includes housekeeping (3 hours daily Monday through Saturday), gardener 5 days per week, mid-week change of bath linens and final cleaning. Heat is included up to Euros 50/week and metered and paid according to consumption after that. Upon request, the pool can be heated for 150 Euros per week. Upon request, the Jacuzzi can be heated for 150 Euros per week.

Electricity (including air conditioning usage) is metered and included up to 100 Euros per week. Guests will pay the amount exceeding 100 Euros per week.

Upon request:
Extra bed for 17th person: Euros 300/week; baby bed, cook, wine tasting, babysitting, transfer, extra maid service, laundry. Upon request and approval of the owner a late arrival is possible between 7.00 pm and midnight for an extra fee of 50 Euro, and between midnight and 6.00 am for an extra fee of 100 Euros. Customary arrival time is 4pm to 7pm.

Security/damage deposit: Euros 2000
Service package per week: Euros 350

For more than three children, please inquire.
Pets are not permitted.



2022 rental prices

PLEASE NOTE: This property is priced in EUROS.

Special discount: Deduct 4% from your rental price for non-refundable payment in full at the time of booking.



8 Jan - 16 Apr
23 Apr - 30 Apr
24 Sep - 17 Dec
16 Apr - 23 Apr
30 Apr - 4 Jun
27 Aug - 24 Sep
17 Dec - 7 Jan 2023

4 Jun - 27 Aug

Euros 9000


Euros 11,850


Euros 14,750


Plus Euros 35 booking fee

Distances

Villa d'Este hotel 1.5 km
Motorway 2 km
Lugano 25 km
Milano 50 km
Malpensa airport 60 km

Guests with walking difficulties should be aware that the parking is not at the same level as the villa entrance. Upon request, for those having walking difficulties a single bed can be placed in the living room area. Please note that the bathroom with shower on the ground floor is not wheel chair accessible.

The Area

The area of Lake Como reaching from Como to Tremezzo is a sophisticated resort, where you come to enjoy the scenery, shopping, and views from the stylish restaurants and cafés. The ancient villages and enchanting gardens are the setting for the historical villas of the Lombardy aristocracy and offer pleasant stays at any time of the year.

The best way to enjoy the views of the ancient villas and their gardens is from the water. Finding boats is easily done via taxi boat from the private dock of the villa or by the pier of the Navigazione dei Laghi ferries located 400 meters away.

Como
The city of Como, is 7 km from the villa and can be easily reached by bus or ferry (10 minutes). The old medieval walls surround the old city center. In Como you can enjoy the view of charming corners, ancient monuments and lots of fashionable shops.

Como is famous for its silk factories and luxurious fabric. There are many outlet stores and boutiques where scarves ties and fabrics, by major designers can be bought at excellent prices.

Bellagio
One of the most romantic villages on Lake Como, Bellagio is also known as the "Pearl of the Lake". It is a small town with pastel colored houses, which offer many day-trip itineraries on foot as well as spectacular views. A visit to the beautiful gardens of Villa Melzi is also highly recommended. Guests can drive about 19 km from the villa to Cadenabbia, and then take a ferry for 10 minutes to reach Bellagio.

Isola Comacina
Isola Comacina, the only island in Lake Como, is full of rich history. The Locanda dell'isola is a unique and exclusive restaurant where, at the end of your dinner, you will enjoy the long-standing ritual of the flambéed coffee prepared and offered by the owner to his guests. This island is about 8 km from the villa.

By boat, it is 10 minutes across the lake from Villa Virginia.

Fox Town, Mendrisio Switzerland
For guests interested in venturing into Switzerland, there is a shopping center just a few kilometres from the villa which offers products from the best known international companies and brands at factory prices. Discounts from 30% to 70% are waiting for intelligent shopping. Remember to bring your passport!

Leisure Activities

Water Sports: water skiing, boat hire, jet skis, kayaks, regattas with the Cannottieri Moltrasio yacht club.
Hiking: marked paths leading to the top of Mount Bisbino
Casinos: Campione d'Italia Casino, Mendrisio Casino at Fox Town, Lugano Casino.
Golf courses: nine courses within 50 km. Golf Club Carimate, Golf Club Menaggio & Cadenabbia, Golf Club Lanzo, Golf Club Ponticello, La Pinetina Golf Club, Golf Club le Robinie, Golf Club Villa d'Este, Green Club Lainate.
Shopping: in Como, Bellagio, Lugano and Fox Town in Mendrisio.
Nearby attractions: Gardens and charming historic Villas: Villa Carlotta, Villa Balbianello, Villa Melzi, Villa Olmo, Villa Passalacqua, Villa Fontanelle (Versace's former home), Villa Oleandra (George Clooney's home). Isola Comacina with its famous Locanda dell'Isola inn and the house planned by the King of Belgium.