This elegant accommodation for 10 people is part of a beautiful historic complex that has been owned, loved and cared for by the same family for more than 400 years. The current design of the property was created out of a construction project of 1734, when the land became the property of the family. The construction of 1734 was one of the very first examples of a style of architecture that found immense success in the areas surrounding Verona during the following years. The entire property was excellently restored in 2007.

Check availability

This unique estate of more than 2 hectares consists of two main parts. The first is the villa of the owner, which is not available for rent. The owner's villa includes a magnificent main court and an old rural courtyard that has been converted into a splendid Relais composed of 15 large and beautiful accommodations featuring many facilities. The second part is our rental, La Colombella, which is located just outside the old courtyard and it has its own independent entrance.

Just outside of the beautiful courtyard there is a large park with tall hedges and centuries-old trees. This is a perfect location for guests to find moments of complete tranquility. In the garden surrounding the courtyard there is a swimming pool. The swimming pool is long and narrow (5x16 meters), which is ideal for long swims or for a refreshing plunge. Guests of La Colombella can also enjoy relaxing and sun tanning on the comfortable deckchairs. The pool is shared among all of the guests of the property.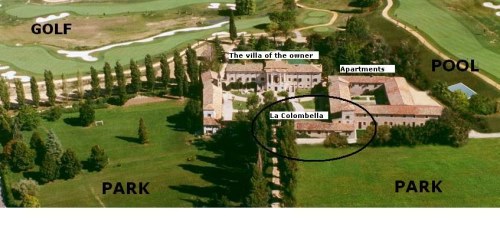 La Colombella is located just outside the old courtyard and has its own independent entrance. The villa has a private garden in front of the house with garden furniture and shaded areas. The property is located in a very quiet location, on one side it is surrounded by the large park, and on the other side it borders on a golf club.

The lovely town of Peschiera del Garda is about 3 km away. Thanks to its excellent location, the town is an ideal starting point for many extraordinary cultural, artistic and outdoor excursions. In Peschiera del Garda there are many nice shops, bars, restaurants and supermarkets.

La Colombella, 270 sq meters, is fully air-conditioned and sleeps 10 people in 5 double bedrooms and 5 bathrooms. La Colombella is characterized by charming touches both in the furnishings and the details. Equipped with every comfort and luxurious facilities, it has been restored to maintain its originality and structure. The villa was personally furnished by the owner with the intention of having guests live a unique experience of times past.

On the ground floor there is a bright living room, a dining room with a table for 10, a laundry room, and a fully equipped kitchen. On this floor there are also a twin bedroom, one bathroom with shower, a small room for an extra bed, and one guest bathroom (a half bathroom).

The first floor consists of two double bedrooms, one twin bedroom and 3 bathrooms, two of which have bathtubs and one has a shower. From this floor there is a staircase with leads to the last two floors of the house, which are located in a very romantic tower. On the first level of the tower there is one bathroom with a bathtub and showerhead. On the second level of the tower there is one double bedroom.

Each room of the villa has different characteristics and furnishings, with antique furniture pieces and ancient prints and paintings, so as to give the feeling of being in one's own home. Some of the bedrooms have a lovely view over the golf club; others overlook the inside of the courtyard and garden.

Inclusions
The price includes all bed, bath and kitchen linens. Bath linens are changed twice per week on Wednesday and Saturday, bed linens are changed every Saturday. Also included are three hours of housecleaning on Wednesday and, for rentals of more than one week, also on Saturday. WIFI, air conditioning, water, electricity, gas, final cleaning, pool towels, pool cleaning service and garden maintenance are also include in the rental fee.

Upon request and approval of the owner a late arrival is possible between 6.00 pm and 9.00 pm for an extra fee of 50 Euro.

The price shown is for up to 10 guests. One extra person may be accommodated and the cost for the extra bed is 150 Euros per week, paid on site.



For larger groups, it is possible to rent one or more apartments of the estate together with La Colombella (one, two or three bedroom). The decorations, style, and quality of materials of the apartments are as elegant as those of La Colombella. Please inquire.

Facilities
Dishwasher, washing machine, oven, toaster, satellite TV, DVD player, CD player and WiFi Internet. A shared barbecue is also available.

AVAILABILITY AND PRICES UPON REQUEST


Pets are not permitted at La Colombella

Activities
Guests will have the exclusive use of a path leading directly to the clubhouse and golf club. The golf club property winds along the sweet hills of the Lake Garda region, passing by striking views of the Monte Baldo and the beautiful blue lake. The 18 championship holes extend on a surface of 800,000 sq meters. At the golf club there is a sports center with soccer fields, tennis courts, basketball courts, beach volleyball courts, a semi-Olympic swimming pool, a children's swimming pool and a Wellness Center.

The Area
With its clear, clean and warm water, sunny beaches, mild climate and Mediterranean vegetation, Lake Garda is like a small sea set between the last spurs of the Alps and Lombardy plain. The Garda region has been a favored locale since Roman times, and has been lauded by poets and writers throughout the ages including Catullus, Goethe, Joyce and D'Annunzio. The area unites its natural beauty with a wealth of history and tradition. There are many interesting little towns situated along the coast or up the hills. The towns of Salò (39 km) and the beautiful Sirmione (11 km) are both rich in culture and excellent restaurants and shops.

Distances
Peschiera del Garda 3 km
Sirmione 11 km
Torri del Benaco 35 km
Salò 39 km
Verona 32 km
Gardone Riviera 62 km
Vicenza 77 km
Brescia 48 km
Mantova 52 km
Trento 91 km
Padova 108 km
Venezia 142 km