Torre Fantini is a charming independent country house located on the border between Emilia Romagna and Tuscany. It sleeps up to 6 people, in 3 bedrooms with en suite bathrooms. It has a private garden with several areas to relax in the shade and a swimming pool overlooking the beautiful valley. At a few minutes walking from the village of Tredozio, Torre Fantini offers a strategic location to explore central Italy's top regions of Emilia Romagna, Tuscany and Umbria.



Torre Fantini can be booked for short stays of 4 or 5 days in low and mid seasons (no arrive and relax, no tours). Contact us for details.



Check availability

Located near the south eastern corner of Italy's Emilia-Romagna region, Torre Fantini enjoys a hilltop position amid the rolling green landscape bordering the Foresti Casentinesi, a national park extending southward into Tuscany. In fact, this property was at one time in Tuscany!

Included in the rental price are two experiences of the region:

- A visit to the beautiful gardens of Palazzo Fantini in Tredozio
- On Monday and full day guided tour including a visit to nearby towns and a visit to a winery in Brisighella (eventual tickets to museums, lunch and wine tasting not included in the price). Guests will use their own car.

Note: The tour must be confirmed upon reservation.



Torre Fantini is an old farm tower belonging to the family of the same name. The family still lives in the Palazzo Fantini located nearby, just 1 km away. The magical garden surrounding the Palazzo, a 17th century residence, is a member of the association of Grandi Giardini Italiani (Great Italian Gardens) and is open to the public for tours, and for courtyard concerts during the summer and for weddings.

You will find the village of Tredozio is deliciously quiet, yet it harbours a number of inviting restaurants, most notably the Mulino di San Michele, housed in an old watermill. A pleasant ten minute walk takes you from the tower to the village centre. Besides its handful of restaurants, Tredozio village has a charming little river running through it. Its shops include a couple of grocers, an excellent fresh produce shop, coffee bars, a butcher's, a chemist's, a bank with ATM, and a post office. In addition there is a small information point, from which, in summer months, you can rent mountain bikes, and a bus service offering buses to Faenza and Forlì. Last but not least there is Tennis Club at only 5 minutes' walk from Torre Fantini.

Tuscan Romagna blends elements from the rich cultures of both Tuscany and Emilia-Romagna. Food and wine lovers could not find them themselves a better spot, lovers of history and culture have a wealth of small and larger nearby towns to explore and lovers of nature will feel they are driving through a rural paradise. Add traditional crafts, from cheese and wine making to fine ceramics and a long tradition of skilled leather work, plus the chance to catch cultural events and traditional festivals, and to take language or cooking courses and you have something for everyone – except those in search of bright city lights.

Torre Fantini offers a stay in a delightful farmhouse, remodelled in the traditional manner, with terrace views over a lovely stretch of countryside. Each of the three double bedrooms is attractively furnished in a refined rustic style with beamed ceilings and cotto toscano floors, and is provided with a satellite TV and small refrigerator. Each bedroom has its own bathroom with shower.

This villa offers our special "arrive and relax" package:

A simple typical dinner is provided on your arrival night. This is a welcome sight after a long flight and will allow you to check in, unpack and relax. You will find the dinner in the kitchen with the instructions for heating. The dinner is also suitable for vegetarian guests. It basically consists of a pasta al forno, a vegetable tarte, salad, and fruit. Bread, water and wine are included. No changes are possible for the first dinner.

The villa also will be stocked with basic groceries so that you do not have to shop upon arrival or worry about store closures on Sunday. The shopping list consists of: milk, coffee, tea, bread, biscuits, sugar, salt, water, fruit, eggs, oil, butter, jam, orange juice, cereals. The quantity of the items will be adjusted by the staff according to the number of guests.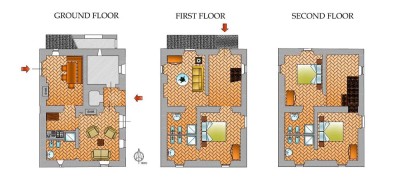 Floor plan - click to enlarge

TECHNICAL DESCRIPTION

Garden and Outdoor Areas
6000 square meters (approx 65,500 square feet)

A paved road leads from the main road (strada statale) to the house. Although you are only a few minutes' walk from the village, staying at the house you will feel that you are staying away from it all in beautiful countryside. The property is partially fenced and surrounded by neighbours' fields. There are a very few houses not far from the Torre Fantini, but you will not be disturbed by their presence.

Parking for 4 cars covered by a pergola of vines.
Panoramic swimming pool (5 x 10 x 1.40 meters). The pool area is furnished with sun beds and umbrellas. Outdoor shower right next to the pool with hot/cold water.
Shaded pergola with table and chairs overlooking the valley.
Small one room building housing an additional dining area.
Terrace garden furnished with tables and chairs overlooking the valley.
Outdoor amenities: private garden, private parking, swimming pool, patios, outside dining areas, BBQ available.

INTERIOR DESCRIPTION
160 square meters (approx 1750 square feet)

Ground Floor

Living room with view over the valley.
Kitchen with dining area.
Bathroom with shower.
All the rooms on this floor have French windows and access to the garden.
Back garden furnished with table and chairs.
The kitchen is equipped with oven, microwave, toaster, fridge and freezer, dishwasher, filter coffee maker. Electric table top stove with four rings. Italian coffee maker known as a "Moka".
Washing machine available.

First Floor

An external stair case (15 steps) leads to the first floor.

Entrance hall: on the right a studio-cum reading room with a sofa bed for one extra adult or two children. En-suite private bathroom with shower. The studio has mosquito windows screens. Fireplace, not functional but just decorative.
La Vecchia Torre: a double bedroom with en-suite bathroom with shower and view over the valley. Bed size 160x190 cm.
All the windows of this room and the bathroom have mosquito windows screens.
Internal staircases to the second floor (12 steps)

Second Floor

On this floor there are 2 twin or double bedrooms.
Le Ginestre: twin - double bedroom with en-suite bathroom with shower and view over the garden and hills. Bed size 160x190 cm.
One window of this room has mosquito screens.
Il Nido dei Rondoni: twin- double bedroom with en-suite bathroom with shower and view over the valley. Bed size 160x190 cm.
All the windows of this room and bathroom have mosquito windows screens.

Other Amenities

Torre Fantini is centrally heated; each bedroom is provided with a hair dryer and satellite TV. Baby bed and high chair available. Iron and ironing board are available. Laundry service is available on request.

No Smoking property, pets are not allowed.

At this altitude, the nights are always cool so air conditioning is not necessary, but, just in case, we can provide ventilator fans on request.

From May 2 to September 26 the swimming pool is open. A cell phone with prepaid card is available. WIFI Internet connection is available and included in the rental price.

Bed and bath linen: Included, changed each Saturday
Electricity: Metered and paid according to usage, with the first 50 Euros/week free
Welcome dinner: Included
Basic grocery stocking: Included
WiFi Internet: Included
Heating: Metered and charged according to usage
Housekeeping: Included, 2 hours a day Tuesday and Thursday. Extra maid service on request 10 Euros per hour.
Final cleaning: Included
Security deposit: 600 Euros
Gardener and pool maintenance: 5 days per week Mon-Fri
Utility deposit for heating (seasonal): 100 Euros per week
Pool open: May 2 to September 26, 2020. Pool towels are included.
Extra bed: 150 Euros per week
Baby crib: 100 Euros per week
Pets: Not permitted
Available on request: Extra bed, cooking class, cook service, daily cleaning, breakfast service, wine tours, Italian language classes.
Late arrival: Upon request and approval of the owner a late arrival is possible between 7:00pm and 9:00pm for an extra fee of 50 Euros.



2020 weekly pricing



PLEASE NOTE: This property is priced in EUROS.


4 Jan - 11 Apr
18 Apr - 16 May
26 Sep - 19 Dec
11 - 18 Apr
16 May - 13 Jun
29 Aug - 26 Sep
19 Dec - 9 Jan 2021

13 Jun - 29 Aug

Euros 2125


Euros 2375


Euros 2625


Plus Euros 35 booking fee

For groups of more than 3 children, please inquire.

NEARBY ATTRACTIONS

Three hundred meters from the house there is a public tennis court.
Vineyards for wine tasting between 10 and 25 km
Horseback riding 25 km
Golf course 28 km
Beach near Ravenna 80 km

While you may be tempted to stay by the pool to relax and enjoy the peace, there are many activities you can enjoy here including learning some Italian, taking a cooking class or a ceramics workshop. If you are a fan of fine footwear you can visit a top flight shoe maker and order a pair of customized walking shoes or riding boots. Or if you prefer physical activity you can go walking or hiking or biking, or book the tennis court for a game or two.

This is a great area for visiting delightful and well preserved medieval villages and for wine tasting at one of the many award winning estates of the area, and on your way there or on your way back, you can stop and eat some of the famous specialties of the area which include many types of hand rolled egg pasta, fine beef steaks and excellent pork products both fresh and the salt cured hams and salamis for which this area is famous.

Art and history lovers will find plenty to visit in a number of historic art cities within easy reach, form the Byzantine mosaics of Ravenna, to the extensive historic centre of Bologna, the many artistic sights of Florence and the International Ceramics museum of Faenza. And of course the bonus is each of these cities has great shopping!

Activities at Torre Fantini

Please inquire if you are interested in:
Italian Language Classes
Cooking classes
Bike tours
Hiking tours

THE AREA

Benefiting from a long history of prosperity, Emilia-Romagna is imbued with the spirit of fine living and boasts many exceptional Renaissance palaces and a particularly rich culinary heritage: lasagne, tortellini, Parmigiano-Reggiano cheese and aged traditional balsamic vinegar are just a few of the region's many delicious innovations. A number of enjoyable excursions are easily undertaken from Torre Fantini. Faenza, with its world-famous ceramics museum and production house, is about 30 km away, and the splendid medieval fortress at Brisighella is half as far. A drive of 50 km toward the Adriatic finds one in Ravenna, in the presence of the world's finest Byzantine mosaics outside of Istanbul, and from here it is just minutes to the wonderful resorts of the coast. The distinguished city of Bologna, 75 km northwest of Torre Fantini, offers a delightful urban experience and, excellent shopping, and remarkably, the Tuscan capital of Florence is almost as close.

Distances:

Modigliana 9 km
Portico di Romagna 16 km
Brisighella 21 km
San Benedetto in Alpe ( National Park ) 25 km
Faenza 28 km
Forlì 45 km
Ravenna 69 km
Bologna 75 lm
Florence 80 km
Modena 128 km
Parma 182 km