Villa Diana is located 10 km north of Menaggio (ferry berth) on the northwest shore of Lake Como and sits directly on Lake Como. This unique setting provides remarkable views of Lake Como and the surrounding peaks and also provides easy access to the lake shore gravel beach.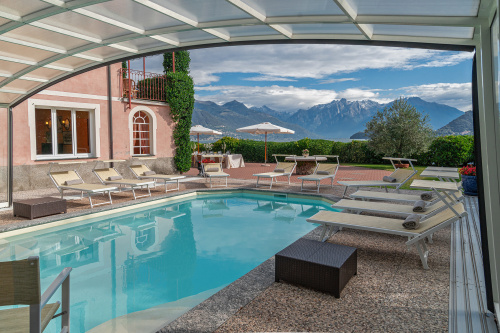 Villa Diana is a perfect gathering place for groups of friends or family reunions and can accommodate up to 16 guests. There are 5 double bedrooms, 2 single bedrooms, one twin, 6 bathrooms and 2 additional guest toilets (ground floor). Four of the bathrooms have a shower and one has a bathtub with handheld shower attachment.

On the ground floor there is an additional third bathroom with shower and facilities for handicapped people. A buoy is now available just in front of the villa.

This villa is available for stays of less than one week in mid and low seasons. Please contact us for details.

The rental price is based on 12 guests in 6 bedrooms. Additional guests up to 16 may be accommodated for an additional per-person fee. There is parking for four cars.

Villa Diana enjoys a large furnished panoramic terrace where guests can take in the breathtaking views while relaxing or dining al fresco. The villa's brightly decorated interior develops on two levels of 300 square meters each—about 3300 square feet per floor! French doors open up to the terrace which is 350 square meters (over 3800 square feet) in size.

A pedestrian path runs along the shore between the lake and the property and allows for easy and enjoyable walks. There is a good pizzeria along this path at about 3 km. Because this walkway is public, the privacy on the terrace can be limited, especially during July and August.

Check availability

The villa was a restaurant in a former life so has a large and spacious kitchen for those who love to cook. For those really on vacation without any desire to cook, a chef can be hired to prepare a typical local meal. Additionally, a new private swimming pool (5 X 10 meters) has just been completed. The pool can be heated on request (it is a pool and not a hot tub). In 2018, heat for the pool is included from May 12 to September 22, and in other periods it can be heated on request for 4 euros per hour.

Villa Diana offers our special "arrive and relax" package:

A simple typical dinner is provided on your arrival night. This is a welcome sight after a long flight and will allow you to check in, unpack and relax. You will find the dinner in the kitchen with the instructions for heating. The dinner is also suitable for vegetarian guests. It basically consists of a pasta al forno, a vegetable tarte, salad, and fruit. Bread, water and wine are included.

Villa Diana offers a very relaxed ambiance. The colors are cheerful and the furnishings are comfortable and simple. The large living room, professional kitchen and dining room with a long table provide ample space.

The entire property measures 2500 sq meters and is located right on the shore of the lake. The private pool has a pleasant deck with deck furniture and parking area is located behind the house.

Ground floor:
Large living room with 3 comfortable sofas, SKY satellite TV and DVD; Internet corner (WIFI, PC, Printer and Scanner, Stereo). This bright room has large French doors that open onto the panoramic terrace (360 sq meters). This floor also features a fully equipped kitchen (refrigerator, dishwasher, 4 burner stove, oven, microwave, coffee maker, toaster, food processor, blender), large dining room with table for 14 people, and a game room for children. On this floor there are also 2 half bathrooms and 1 bathroom with shower with facilities for handicapped people.

Upper floor:
Upstairs there are 5 double bedrooms, each with en suite bathroom, and a small twin bedded room (can convert to a queen bed) with en suite bathroom, all with air conditioning. Two of the double bedrooms rooms each have an adjoining single bedroom (no air conditioning), while the light green double bedroom has direct access to a balcony equipped with table and chairs.
2018 Weekly Prices

Up to 12 guests in 6 bedrooms:



6 Jan - 26 May
25 Aug - 5 Jan 2019
26 May - 25 Aug

Euros 8385



Euros 11385


Plus Euros 35 booking fee

Additional guests from 13-16 persons: 430 Euros/person per week.

Arrival dinner and grocery shop: Included
Wireless Internet: Included
Final cleaning: Included
Electricity: Included
Daily cleaning: 2 hours per day Monday to Saturday excluding national holidays
Linens: Bath linens changed daily, bed linens changed twice a week
Air conditioning: In double bedrooms, included
Heat: Included
Security deposit: 1000 Euros
Upon request: Cook service, extra maid service, catered dinner
Check in: between 4pm and 7:00pm – with approval of the owner, a late arrival is possible between 7.00 pm and 9.00 pm for an extra fee of 50 Euro
Check out: 8:00am – 10:00am

Amenities: Parking for 4 cars, Satellite TV, DVD player, CD Player, wireless Internet, PC, printer, scanner, dishwasher, washing machine, dryer, refrigerator, coffeemaker, toaster, iron and ironing board, patio furniture - daily housekeeping 2 hours/day

Swimming pool dates: May 12 to September 22, 2018

Located behind the house is the museum of the ancient boats of the lakes. On its left is a small boat yard, on its right is the beach, while the state road is behind the museum.

Villa Diana is located just 600 meters from a village where you will find grocery shops, a bank and a post office. Restaurants are also in close proximity.

Activities: Swimming, boating, sailing, windsurfing, hiking, golfing (Golf club Menaggio), flying, horseback riding.

Visit the Museum of "La Raccolta della Barca Lariana" just 50 m behind the villa. It houses a great number of boats typical of the lake from the 19th century to today. The museum features over 600 boats that played an important part in the nautical history of the lake. Among them, there is a Venetian gondola from the last century which was built on Lake Como and Mussolini's own private motorboat.

The museum is not open to the public however we can ask the owner of Villa Diana for an appointment to visit the museum if this is of interest.

Tourist sites: Bellagio, known as the 'pearl of the lake' thanks to its position between the two arms of the lake and the medieval village of Varenna, Tremezzo with the neo-classical Villa Carlotta (one of the most beautiful villas of the lake with its botanic garden and artistic masterpieces), Menaggio, Varenna (Villa Monastero) and Como with its important historical buildings.

Distances by car: Villa Carlotta in Tremezzo 20 minutes, Varenna and Bellagio 30 minutes by ferry, Como 1 hr, Lugano (and nearest highway intersection) 1 hr, Milan city centre 2 hrs, Saint Moritz 2 hrs, Venice 3.5 hrs, Florence 4 hrs. It is necessary to have a car in this region.

Sports: The nearest golf course, tennis court and equestrian club are 10 km away in Menaggio. Lake Como and in particular the northern zone of the lake is renowned in all of Europe as an excellent sailing area - this is the most windy area of the lake and the most unspoilt; the Breva, a temperate breeze of Lake Como, blows during the afternoons, guaranteeing enjoyment for sailing and windsurfing. The area offers numerous alpine destinations and several trekking and mountain bike trails.

Shopping: The main factory outlet shops (Armani factory shop, Fox town, Ferragamo, Versace, Etro, Gucci, Mantero, Lario) are within 10-30 minutes of Como.

Pets are permitted upon request.