Located on a wooded promontory above the harbor town of Portofino, this delightful independent villa offers complete privacy, spectacular views, private access to the sea and an elevated level of comfort. With its mild climate, dramatic cliffs descending to the sea, and evocative nature, the town and harbor of Portofino have long attracted tourists and Italians alike who seek relaxation, glamour, good shopping and delicious seafood cuisine. Movie stars and luxury yachts easily mix with locals and visitors. A simple plate of frutte di mare accompanied by a glass of crisp Pigato wine are heavenly. The warm ochre colored buildings exposing the spent stucco of past centuries and the tropical and luxurious vegetation create an ever present feeling of being part of an impressionist painting.



Portofino is part of the "Italian Riviera" located 30 minutes south (by motorway) of Genova, 40 minutes from the Genova airport and 4 kilometers from the village of Santa Margherita (bus service to Portofino every 20 minutes). The characteristic fishing villages of the Cinque Terre lie to the south and can easily be reached by boat or train. Florence is 3 hours to the south and Milan is 2 hours to the north.

Check availability

This villa includes our special "arrive and relax" package:

A simple Italian dinner is provided on your arrival night. This is a welcome sight after a long flight and will allow you to check in, unpack and relax. You will find the dinner in the kitchen with the instructions for heating. The dinner is also suitable for vegetarian guests. It basically consists of a pasta al forno, a vegetable tarte, salad, and fruit. Bread, water and wine are included. No changes are possible for the first dinner.

The villa also will be stocked with basic groceries so that you do not have to shop upon arrival or worry about store closures on Sunday. The shopping list consists of: milk, coffee, tea, bread, biscuits, sugar, salt, water, fruit, eggs, oil, butter, jam, orange juice, cereals. The quantity of the items will be adjusted by the staff according to the number of guests.


The Villa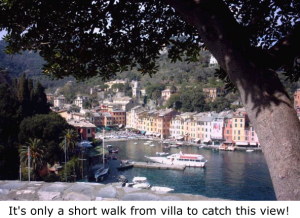 This unique and stylish villa graces a piece of land overlooking the beautiful blue Mediterranean and is visible only from the sea. Also located on this exclusive promontory are the small historic church of San Giorgio (contains relics of the saint), the notable Castello Brown and, at the point, the light house. A cobbled path connects these and a handful of other exclusive villas, and is about a 15 minute walk from the central Portofino piazza. A most remarkable way to also reach the villa is by private elevator. Located at the far end of the harbor, a locked door (accessible to guests) opens up to a stone subterranean tunnel which in turn, after a short walk, accesses an elevator. A short ride later, one exits on the cobbled path and Portofino Point is a short 300 meters away.
The entrance to the villa grounds is through a stylish wrought iron gate. The path descends by way of a stairway through a rock garden featuring the lush fauna of this special microclimate. The grand pergola/terrace shaded by a century old wisteria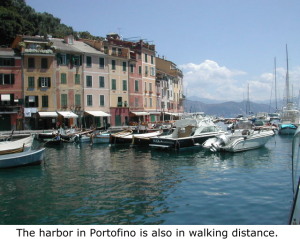 welcomes guests after a short walk. An additional outdoor delight is the panoramic solarium located up a stepped path which offers glorious views of the sea and a peaceful spot for reading, sunning and relaxing.
A steep path of stairs (112 more or less) leads down to a rock swimming platform. Here it is possible to sunbathe and take glorious dips in the Mediterranean Sea. There are several stunning outlooks along the way. Because of the amount of stairs at Portofino Point, we do not recommend this villa for guests with walking difficulties.
All the bedrooms on both levels have air conditioning. It is possible to slightly heat the bedrooms ONLY when heating is needed.

The villa develops on two levels.
First level:

From the grand pergola, which offers lovely outdoor dining, and through large French sliding doors, one enters the spacious living room furnished in comfortable contemporary style. This space gives a pleasant open feeling and leads to the formal dining room and kitchen (refrigerator, washing machine, dishwasher, oven).

A dryer will is now available to the guests.

This level includes the following bedrooms:

- One double bedroom (beds cannot be separated) with en suite bathroom with bathtub; Garden view
- One twin/double bedroom. One bathroom with shower; sea view
- One twin/double bedroom. One bathroom with bathtub and shower; sea view
- One single bedroom; sea view
On this level, three bedrooms have sea view and the other one has a garden view.
Lower Level:

- One twin/double bedroom with en suite bathroom with shower; sea view
- One twin/double bedroom with en suite bathroom with shower; sea view

The maid's bedroom and laundry room are also on this level.
The maid lives on site and daily service is included in the price. Bed and bath linens are changed every Saturday (an extra set can be provided for 20 euros per set per person, paid to the maid.)
Given the geographical location of the villa and the character of the region (hills/steps), the villa is not suitable for physically challenged guests.

Central heating is provided throughout the villa and WIFI internet is included in the price.

There is a small grocery shop in Portofino--more extensive grocery shopping can be done in Santa Margherita and, for a fee, groceries can be delivered directly to the villa.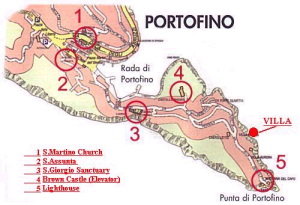 Pricing information

Service fee: 500 Euros, paid in cash on arrival, which includes:
- Air conditioning
- Wireless Internet
- Final cleaning
- Electricity
- Maid service - Saturday to Saturday, with Wednesday off
- Welcome dinner
- Advance basic grocery shopping
- Porter service (pre-arranged--see below*)

Baby bed: 100 Euros
Heat: Charged according to usage
Security deposit: 1000 Euros
Utility deposit paid on arrival for heating (seasonal): 300 Euros
Upon request: Cook service, transfer. These services must be pre-arranged.
Check in: Between 4pm and 7:00pm – with approval of the owner, a late arrival is possible between 7.00 pm and 9.00 pm for an extra fee of 50 Euro
Check out: 8:00am – 10:00am
Additional upon upon request: Extra maid service, laundry service, baby sitting, extra change of linens.

*Porter service is available on your arrival Saturday from 4-6pm. You will need to request this in advance.

AN 11th GUEST CAN BE ACCOMMODATED FOR AN ADDITIONAL 400 EUROS PER WEEK, PAID ON ARRIVAL

2022 weekly pricing for up to 10 guests

PLEASE NOTE: This property is priced in EUROS.



1 Jan - 30 Apr
1 Oct - May 2023
30 Apr - 11 Jun
27 Aug - 1 Oct

11 Jun - 27 Aug

CLOSED


Euros 10745


Euros 12145

Plus Euros 35 booking fee
The villa is available only from April 30 to October 1, 2022.

Pets are permitted on request at Portofino Point for 60 euros per week.

GETTING TO PORTOFINO POINT AND EXPLORING THE AREA
Portofino is a pedestrian haven and it is refreshing to adapt to the rhythm of this unique place. Cars are allowed on a very limited basis and during the bustling summer and certain busy weekends, private cars can be stopped on the narrow winding road leading into the harbor town, proceeding only once given permission by the traffic agent. We suggest arriving by one of the following ways:

By private driver/taxi from the Genova airport: This can cost anywhere between $100 and $150 dollars. However, this eliminates the need for a rental car.

By private water taxi or boat: Approximately 100 Euros per hour.

By train: On the principal rail line from Genova to Rapallo, there is a bus to Portofino. There are also local trains from Genova to Santa Margherita, and the bus from Santa Margherita runs every 20 minutes. You can also take a taxi from Santa Margherita once you have arrived by train.
For exploring the region, boats run regularly between Portofino and the Cinque Terre and other parts of the Italian Riviera.
The Cinque Terre are also easily reached from Santa Margherita and Rapallo.
Hiking trails grace the area - the small town of San Fruttuoso is about 2hr 30 minutes by footpath amid the vineyards and orchards.