Assisi's serenity and mystic tradition began with St Francis, the 12th century monk, who shamed the extravagant Catholic church with his humility and peacefulness. The figures of Saint Francis and Saint Claire continue to fascinate us with the freshness of their message. Furthermore, this medieval hill town is also known for its marvelous basilicas, enriched by the works of the greatest Italian painters such as Giotto, Cimabue, Simone Martini, and Lorenzetti.

Assisi's typical medieval urban structure as well as the surrounding beautiful countryside and remarkable views offer a perfect blend of art, nature and excellent food.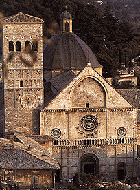 Our apartment, San Rufino, is located in the heart of Assisi on the first floor of a noble palazzo, Palazzo Minciotti, which dates back to 17th century. Located right on the piazza across from the majestic cathedral of San Rufino, this palazzo is among the most beautiful in Assisi with its stone façade, vaulted ceilings and ancient stairs. The owners, descendants of Contessa Giulia Cileni Nepis (an ancient Assisi family), have carefully and attentively restored the building without compromising its integrity or charm.
All five apartments of Palazzo Minciotti are still owned by the descendants of Contessa Giulia. Three are rented as guest accommodations, one of the descendants lives in the fourth one and the fifth apartment, our offering, San Rufino, is the apartment of one of the other family members who currently lives in Milan.
In addition to its history and character, Palazzo Minciotti offers two very unique features: a garden and swimming pool. The owners and guests share the pleasant garden that has a collection of lovely rose bushes and outdoor furniture. There is also a small swimming pool. The garden and pool offer a relaxing and peaceful haven in the middle of historic Assisi and there are views of the Rocca Maggiore from the garden.
Check availability
Description

Apartment San Rufino is 200 square meters in size and comfortably sleeps six people. Because it has three bedrooms and three bathrooms, this accommodation works especially well for couples.
Located on the first floor of the palazzo, the entrance to the apartment is through a large yellow hall, from which opens one double bedroom with a view of the cathedral and an adjoining bathroom with shower. There is a dining room with table for 8 and two living rooms, one with a decorative fireplace and a beautiful balcony where you can enjoy a lovely view of the sculptured facade of the cathedral, San Rufino.

There is a second double bedroom with adjoining bathroom with bathtub. A third double bedroom uses a separate bathroom with shower.

There is a second dining room with characteristic stone walls and arched ceilings directly off the kitchen. The kitchen is well equipped with a stove, refrigerator, dishwasher, washing machine and oven and opens onto a small courtyard. A small private path leads through the palazzo to the rose garden which is a few meters from the apartment. Here you make a lovely transition from the tastefully furnished apartment with family antiques to a feeling of countryside with the pleasant garden and wonderful views, especially of the Rocca Maggiore.
A car is not necessary for your stay in Assisi. Markets, restaurants, cafe bars and shops are all within walking distance as are the important works of art that Assisi has to offer. A telephone is available in the apartment, for local calls only. There is an Internet cafe with wireless service in the square below the apartment.

PRICING UPON REQUEST

- Parking is in the Matteotti parking lot, which is located approximately 200 meters from San Rufino apartment. At arrival and departure, guests are welcome to drive in front of Palazzo Minciotti to unload and load luggage.

- The garden and pool are shared among the other apartments located in Palazzo Minciotti.

- The cleaning road service passes daily at 6:45 am in via delle Rose where one of our bedrooms has a window. For this reason, noise can be heard for a few minutes, however the street below is guaranteed to be clean!

- The bells of the cathedral S.Rufino ring daily at noon and at 8 p.m.

- During the following events the center of the town is closed to cars:
Good Friday (afternoon), April 25th (Liberation Day), May 1st (Labor Day), the day of Calendimaggio (first Tuesday in May)

Assisi can be reached in various ways

By car:
- from Florence (183 km) in about two and a half hours via the Autostrada del Sole (Valdichiana exit)
- from Rome (177 km) in about two and a quarter hours via the Autostrada del Sole as far as Orte
- from Rimini (182 km) by way of Pesaro, Fano, Gubbio;
- from Siena (136 km) by way of Sinalunga and Perugia;
- from Ravenna (221 km) by way of Cesena, San Sepolcro, Città di Castello

By bus:
From Florence and Rome (each is about two and a half-hours).

Public bus service connects Assisi to Santa Maria degli Angeli (where the train station is also located), Bastia, Bettona, Rivotorto, Tordandrea, Petrignano, and San Gregorio.

By train:
The train station is located 5 km from the center of Assisi, in Santa Maria degli Angeli, with shuttle bus service available. There are direct trains to and from Rome, Florence and Milan. A taxi from the station to the apartment is about 11.50 Euro + 50 cent for each piece of luggage.

By plane:
The Umbria Airport is S. Egidio and is located approximately 13 km from Assisi. It connects to Bologna and Milan with regularly scheduled flights. The taxi ride from S. Egidio to Assisi is about 22 Euro.
Assisi events throughout the year:
-PROCESSION OF THE DEAD CHRIST (Holy Week)
-ANTIQUE FAIR AND MARKET (April-May)
-CALENDIMAGGIO (first Thursday of May)
-FESTIVAL OF THE VOTO (June 22nd)
-FESTIVAL OF S. RUFINO AND S. CHIARA (August 11th -12th)
-FESTIVAL OF ST. FRANCIS (October 3rd-4th)
Floorplan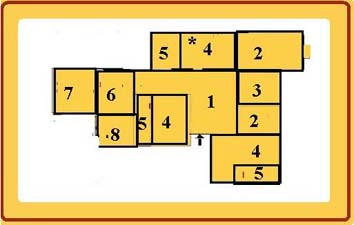 1 HALL
2 LIVING ROOM
3 DINING ROOM
4 DOUBLE BEDROOM
5 BATHROOM
6 KITCHEN
7 ADDITIONAL DINING ROOM
8 COURTYARD