CASA MAGGIORE
LESA - Lake Maggiore - The Northern Lakes
Property ID: 2275
Rating:

Sleeps: 8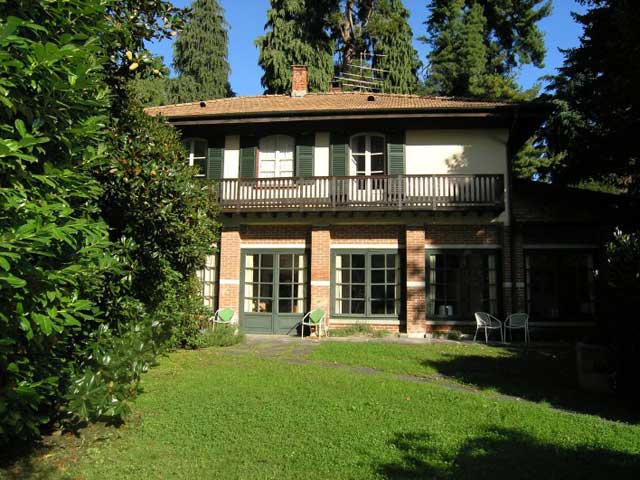 - Independent house
- Washing machine
- Swimming pool

- 5 bedrooms
- 2 baths

- Cable TV
- Telephone
- Baby bed available
- Dishwasher
- Garden, terrace
- Dogs allowed
- Near the village
- Fireplace
- Golf less than 15 km away
- Tennis less than 15 km away
- Central heating
- Fast Internet
- Barbecue
- Maid Service

See approximate location


Casa Maggiore is a delightful lakeside villa situated directly on the western shore of Lake Maggiore. Within walking distance of the small town of Lesa, its location is ideal for visiting the interesting towns and sights on the lake as well as enjoying a very peaceful ambiance.

Located on the same estate as the owner's villa (50 meters away), the beautiful lakeshore garden and grounds offer a variety of shaded and serene areas graced with century old trees. Furnished areas abound throughout and the swimming pool (12m x 6m) is positioned in a very panoramic setting near the beach offering lovely views of the blue lake. The pebbled beach, which is a public beach, is directly accessed from Casa Maggiore by way of a small gate.

The villa is available for a minimum rental of 4 days in the mid and low seasons.

Check availability

Both the grounds and swimming pool are shared with the very friendly owner. The grounds are entirely enclosed and parking is inside the gates of the property.

There is also a barbecue and a very nicely furnished private patio right off of the dining room. This is a perfect space for al fresco dining and taking pleasure in the Lake cuisine and lovely atmosphere.

Casa Maggiore is a full comfort villa that spans two floors and has just recently been restored with much taste and care.



Two hours of house cleaning are included each Monday and Wednesday. The telephone is provided for locals calls only, and fast Internet ADSL access is available. An extra bed is not available. For pets, only a small and well-behaved dog will be accepted. For a fee, a cook service and advanced grocery shopping can be provided.

Please note: The capacity of the house is 8 guests, including babies. Parking is available only for 2 sedans or a small van.

Close to the villa there is a private harbor where it is possible to book a mooring in advance.

Important: Trailers have to be parked outside the property and guests must agree that owner and agents are not responsible for whatever could happen to the trailer and boat. It is not possible to park any kind of trailer inside the property.

In 2013, the pool will be open from May 4 to September 28. Pool towels are included.

Location



The closest town to Casa Maggiore is Lesa, which is within walking distance.

Lesa is a pleasant lakeside resort located between Stresa and Arona. In the town there is a small harbor and lakeside promenade and the it also offers a variety of services such as grocery shops, restaurants, cafes, post office and pharmacy. There are several nearby destinations and activities in the area for guests' pleasure. The ferry to the other beautiful lake resort towns and islands docks at Belgirate which is 4 km away. Daily excursions are possible to the Borromean Islands, to Arona and the Botanical Gardens at Villa Taranto.

Ground floor

The foyer leads to a very attractive living room and dining room with a table for ten. Both rooms are stylishly furnished with inviting bright French doors that open onto the patio overlooking the very well maintained garden of roses and very old trees. The kitchen has been nicely updated and is well equipped with a stove, refrigerator, dishwasher and washing machine. Roomy and spacious, the kitchen also has a table for dining. The décor and furnishing, sofas, armchairs and coffee tables, are of high quality. There is also a fireplace.

First floor

On this upper floor there are five bedrooms: two with queen beds, two twin bedded rooms (both of which can be joined to form double bedded rooms) and one single bedded room. Two of the bedrooms have access to the balcony.

There are two bathrooms, one with bathtub and one with shower.

Internet: ADSL available
Final cleaning: 200 Euros
Utilities (electricity and gas): Included
Baby bed: 100 Euros
Heat: 50 Euros per day mid season, 70 Euros per day low season
Security deposit: 1500 Euros
Utility deposit paid on arrival for heating (seasonal): 250 Euros
Mooring: Lakeside at the buoy in front of the villa, 200 Euros per week on request with owner approval
Pets: 60 Euros per week, with owner approval
Upon request: Cook service, extra maid service, advance grocery shopping.


Check in: between 4pm and 7:00pm – with approval of the owner, a late arrival is possible between 7.00 pm and 9.00 pm for an extra fee of 50 Euro
Check out: 8:00am – 10:00am


Rental prices 2013

PLEASE NOTE: This property is priced in EUROS.

High season
June 29

-

August 31
EUROS € 3660/week
Mid season
March 30 - April 6
May 4 - June 29
August 31 - September 28
December 21 - January 4 '14
EUROS € 3040/week
Low season
All other weeks
EUROS € 3040/week
Plus Euros 35 booking fee


Location

Lesa: 500 meters
Belgirate: 4 km – ferry and boat rental
Stresa: 6 km
Malpensa airport: 45 km
Sports

Tennis 150 meters
Golf 4 km

Water sports such as sailing ,windsurfing, and water-skiing are available in Stresa, Belgirate and Lesa.

The area

Lago Maggiore is a magical glacial lake anchoring the mountains which lead up to the Italian Alps. This is the heart of the 'Lakes District' of Italy, an area with a noted northern influence blending beautifully with all things Italian. This is an area devoted to being outdoors on land or water, with plenty of small villages to explore. There is excellent hiking in the Valle Grande and elsewhere, and equally excellent golfing with two golf courses within 15 minutes by car.
Tours in the area include Stresa, which offers many restaurants and shops and is the setting for the renowned Grand hotel des Iles Borromées favored by Hemingway and Mussolini. Other tour ideas include the Borromeo Islands, Brissago Islands, Arona, Villa Taranto (botanical gardens), and the Cannero Riviera. A ten minute drive takes one to the ferry launches in Belgirate, while the romantic Lake Orta with Isola S.Giulio is only fifteen minutes away by car.