IL CONVENTO IN CAMPAGNA - Il Mulino
MANTIGNANA - Umbria towns and countryside - Umbria
Property ID: 2188
Rating:

Sleeps: 6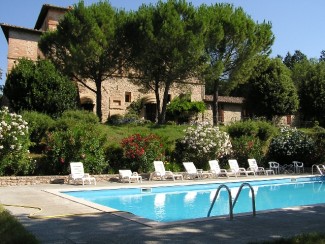 - Washing machine
- Swimming pool

- 2 bedrooms
- 2 baths

- Television
- Baby bed available
- Internet
- Near the village
- Tennis on the property
- Barbecue
- Restaurant
- Particular charm

See approximate location


Il Convento in Campagna is a characteristic 10th century convent that has been tastefully restored into 10 guest accommodations. &nbsp It offers an authentic experience and very pleasant views of the Umbrian countryside.

Il Mulino was part of the old mill of the convent. Furniture is country rustic and blends nicely with the historic features of the structure.

Il Convento in Campagna offers easy access to a village while enjoying a countryside setting. &nbsp It is located on the edge of the town of Mantignana, which can be reached on foot. &nbsp A good variety of services can be found here and it is possible to stay at Il Convento without a car as Mantignana is serviced by a local bus.&nbsp Perugia is 18 kilometers away and Lake Trasimeno is at 14 kilometers.

The pool is large (15m x 7.5m) and in a very panoramic position.&nbsp It is shared with other guests of the residence as is the well maintained garden and various shaded areas throughout the grounds. &nbsp

Il Mulino has a furnished outdoor area right outside its entrance.

There is wireless connection in some of the common garden areas outside the structure. Due to the thick stone walls, the connection is not strong inside the apartment. There is also a shared laundry facility and a tennis court on the premises. Both are paid on site.

The ancient stone cellar has been converted into a beautiful rustic room which is home to the restaurant, REFECTORIUM. In the winter, the warm fire in the large fireplace provides a cozy and welcoming atmosphere to accompany the delicious Umbrian menu. In the summer it provides a cool and fresh space. There are also tables for outdoor dining. The restaurant is closed on Tuesday. Dinner is served Wednesday through Monday with lunch and dinner served on Sunday. An arrival dinner is especially welcoming after a long journey. Dinner on arrival Saturdays should be requested in advance to ensure a table.

2012 pool dates:
May 5 to September 29.

Special pricing for two people in low and mid season. (excluding Easter week) Detailed Information:

Il Mulino
Sleeps 6
75 square meters

Raised ground floor (accessed from 8 external steps): Living/dining room with kitchen area; Two bedrooms, each with adjoining bathrooms. The bedrooms interlink. One has a queen bed and a single bed with ensuite bathroom with shower; the 2nd bedroom has a queen bed and a single bed with ensuite bathroom with bathtub.

Prices 2012

PLEASE NOTE: This property is priced in Euros.

High season
July 7 - August 25

Euros € 1095/week
Mid season
April 7 - 14
June 02 - July 7
August 25- September 29

Euros € 865/week
Low season
All other weeks
Euros € 600/week
Plus Euros € 35 booking fee

Features:
• Private covered parking
• Swimming pool
• TV in each apartment
• Independent heating and gas
• Horseback riding at 2km and golf at 9 km
• Market and various services at 400m

Location:
Mantignana at 400m
Lake Trasimeno at 14km
Perugia at 18km
Assisi at 43km